How to Draw Art, Art from Monsters University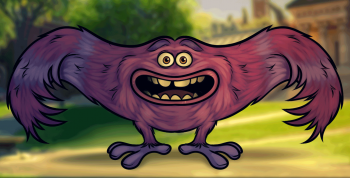 With every movie there has to be a comic relief as well as a free spirit. That is the case with Monsters University. In this film the rebel and comedian is this purple figure you see before you now. He is not only an odd looking monster, he is very hyper and free spirited. Up next, we will tackle the task of learning "how to draw Art from Monsters University", step by step. I had fun recreating Art because he was so easy to draw. His body mainly consists of a head, fury arms and a pair of flat three toed feet. He is always smiling and has a lot of spunk. Drawing Art will definitely be exciting. I hope you enjoy this tut folks, I will be back with more.....
Step 1
We will begin by simply making a circle for the head and or body, then draw in the guidelines for the face, arms and legs.
Step 2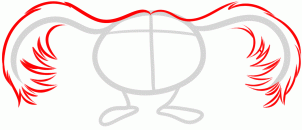 We will now start drawing the shape of the arms which are feathery or hairy. They curl inward as you can see and the top of Art's head should have a part.
Step 3
Next, draw the rest of the body shape followed by the shapes of the legs and feet.
Step 4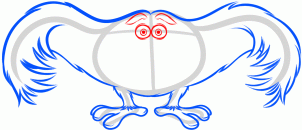 Simply draw in the thick bushy eyebrows, then draw the two simple circles for his eyes. Don't forget to color in the pupils.
Step 5
Next up, we will begin drawing out Art's mouth. Start with the thick skin based shape of his lips first, then draw in the teeth and tongue. Art is always smiling.
Step 6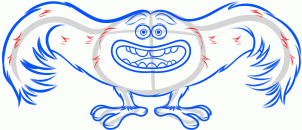 Lastly, sketch in all the hair or fur detailing scattered throughout the body, then you can clean up the drawing freeing it from mistakes and guides.
Step 7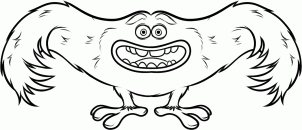 Here is Art. Now you can grab your purple crayon, marker, pencil, or paint and color him in.

You will find incredible drawing tutorials for kids with step-by-step explanation how to create great drawings. All how to draw tutorials on HelloKids are provided by our partner, Dragoart.com. Pets, Pokémon, fantstic beast and dragons, be sure you will find something to draw on Hellokids!