How to Draw Fungus, Fungus from Monsters University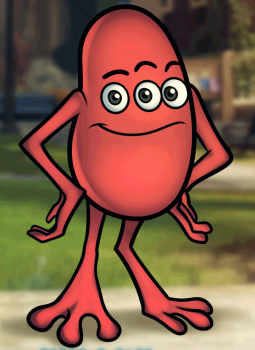 Some of you may recognize the face you see before you, but then again some of you may not. If you are thinking to yourself that this character looks familiar, that's because he is Randall's right hand man on the scare floor. Today this lesson will show you "how to draw Fungus", step by step. Fungus is usually wearing eyeglasses and a hat, but when he was in college he looked as plain as a plain jane. Drawing Fungus will be fun because I know that many of you liked this character in Monsters Inc. I don't know what the story is about, but I'm sure the prequel will be awesome. Enjoy this tut folks, and remember feedback is good.....
Step 1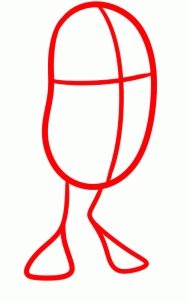 To start make the shape of a jellybean like so, then draw in the leg and facial guides as well as the feet shapes.
Step 2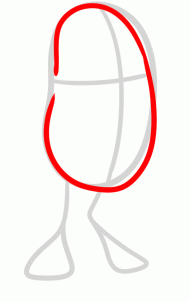 Define the shape of Fungus' body like so, then proceed to step three.
Step 3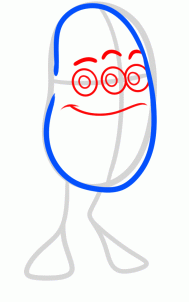 Using the facial guidelines you will need to draw in three small circular eyes, as well as three eyebrows and one smile.
Step 4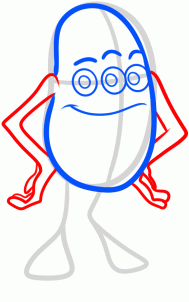 Up next, draw in the long arms and then his large monstrous hands. Be sure to have the arms and hands resting on his hips.
Step 5
Lastly, draw in Fungus' stubby sort of thick legs as well as his three toes feet. Erase the mistakes if you made any, then you're finished.
Step 6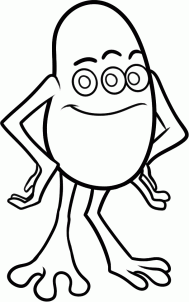 Here is Fungus when you are all done. Now all you need to do is color him in like always.

You will find incredible drawing tutorials for kids with step-by-step explanation how to create great drawings. All how to draw tutorials on HelloKids are provided by our partner, Dragoart.com. Pets, Pokémon, fantstic beast and dragons, be sure you will find something to draw on Hellokids!