How to Draw a Spinosaurus For Kids
Well there is more coming your way but I will take things down a notch and show you "how to draw a Spinosaurus for kids", step by step. Dinosaurs are awesome reptiles to draw in a 'for kids' fashion because all kids love dinosaurs which means they also like drawing them as well. Now because there is hardly any good books or sites out there that cater to small hands and big pencils or crayons, I really wanted this dinosaur to teach novice artists and kids how to make their own favorite dinosaur easily. Kids like drawing things that look easy, and colorful; not pin slim lined drawings with dull colors. I know you will enjoy this tutorial on drawing a Spinosaurus for kids because my little sister did. I have but one request for you all, leave comments or feedback so others know what you think. Adios people and as always, have fun drawing dinosaurs.....
Step 1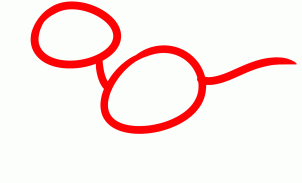 make two shapes, one for the head, and the other for the body. Notice how the body shape looks like an egg. Connect the two shapes with a neck line and then add a tail line or guide.
Step 2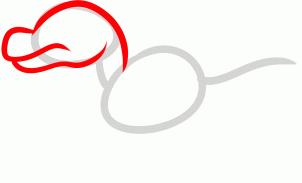 Now begin to sketch out the snout of the dinosaur which is long and sort of bumpy. Draw the head and back of the neck, then proceed to step three.
Step 3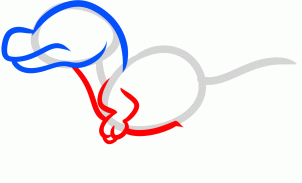 As you can see you will be further along when you are done with this tutorial. Draw the front part of the Spinosaurus' neck and or chest like so, then draw the small rounded arms and talons. End this step by making the lining for the belly.
Step 4
Draw the arched back, then draw the cone shaped stubby tail. Remember, this Spinosaurus is supposed to appeal to kids and novice artists.
Step 5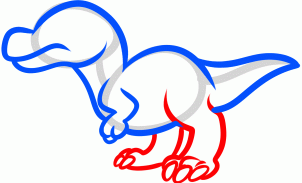 We will draw out the legs, then draw in the feet and clawed toes.
Step 6
End this step by drawing the bone line rounded spine on it's back, then add the scales on the skin, draw the eye, then add the nostril and teeth. Erase the mistakes like so.
Step 7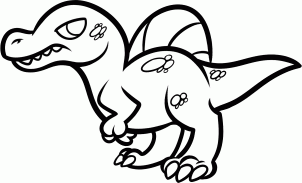 Here is how your Spinosaurus looks when you are all done. Now have some fun coloring it in.

You will find incredible drawing tutorials for kids with step-by-step explanation how to create great drawings. All how to draw tutorials on HelloKids are provided by our partner, Dragoart.com. Pets, Pokémon, fantstic beast and dragons, be sure you will find something to draw on Hellokids!
Your comments
1 vote(s) - Average rating 4/5
Sunday October, 05, 2014 at 9:26 PM
So cool
View other comments