Wreck-it Ralph, February, 2013 in theaters
Wreck it Ralph disney coloring pages and printables soon available on Hellokids!
GETTING TO THE NEXT LEVEL
A Peek Behind the Screens of "Wreck-It Ralph"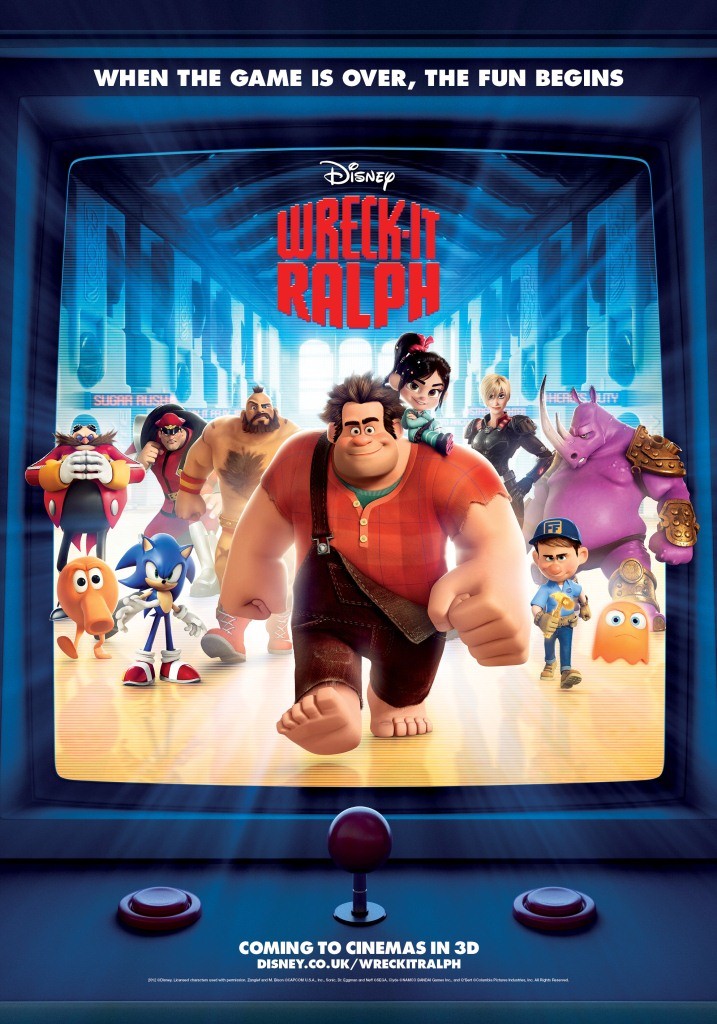 THE STAR IS BORN
At nine feet tall and 643 pounds, Ralph is certainly a force to be… well, wreck-oned with. He's a massive guy charged with wrecking the apartment building in a place called Niceland. Much to Ralph's dismay, a spry sport named Fix-It Felix Jr. is called on to fix the building and save the day with his magic hammer, earning cheers, accolades and a fancy gold medal from the Nicelanders.

"Ralph is the bad guy in an old 1980s arcade game who's wondering—after 30 years of playing his assigned role—'Is this it?'" says Moore. "So, like a lot of us, he tries to solve an internal problem with an external solution: he's going to try to win a medal—if he could win just one, he thinks he'll earn the kind of love and respect Felix gets."

"So Ralph embarks on this journey across the arcade to try to earn that medal," says  producer Clark Spencer. "Of course, the real journey is for him—and everyone else—to realize that while he's programmed to be one thing, it doesn't mean that's what he is on the inside."

Ralph's quest will take him from his home in the game Fix-It Felix Jr. into the vast worlds the arcade has to offer. "We jump from Ralph's very simple 8-bit world to Hero's Duty," says Spencer. "Hero's Duty is a modern, first-person shooter game—it's brand new, the best game in the arcade, the most advanced game out there. In this game, Sergeant Calhoun heads up a platoon of soldiers fighting off Cy-Bugs that are annihilating the universe. It's very intense."

According to Moore, Hero's Duty is loaded with detail even gamers will appreciate. And the tone?  "It's gritty," says the director.

Calhoun and Ralph don't exactly see eye to eye. Beyond squashing every last one of the Cy-Bugs, Calhoun's only mission at the time is to get Ralph off her turf. But he spies the one thing he covets—a medal—and he makes it his mission to get his oversized hands on it. His efforts go awry and Ralph finds himself jetting from the tough world of Hero's Duty to something a little sweeter—literally.

"Sugar Rush is a 1990s cart-racing game set in a world that's made entirely out of candy," says Moore. "So this world is more whimsical. It's got a classic Disney feel mixed with an anime influence."

"But while it has a sweet veneer," adds Spencer, "there's a dark side to Sugar Rush."

There's also a scrappy little girl named Vanellope von Schweetz who's the first to spot Ralph. "Vanellope lives on the fringes of Sugar Rush," says Moore. "She's a glitch—a programming error—so she's ostracized from the activities of Sugar Rush and has to take care of herself. Ralph and Vanellope don't really like each other at first—she gives him a hard time—but they start to realize that they're a lot alike. They're both misfits."

Ralph learns that Vanellope is on her own quest to join the ranks of the Sugar Rush racers, even though none of the other Sugar Russians support her. As a result, she's developed a tough exterior and a sharp tongue to go with it. But Ralph can take it—the verbal sparring between the two leads to a real friendship between them. And Vanellope—through her plight—opens Ralph's eyes to what it really means to be a hero.


Your comments
1 vote(s) - Average rating 4/5
Sunday January, 11, 2015 at 8:02 PM
peace sign
View other comments