How to Draw Winnie the Pooh Easy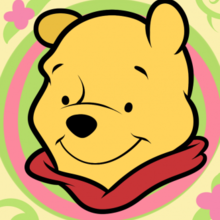 Here is a familiar face we haven't seen in a while here on Dragoart. It'a Winnie the Pooh and he is coming for you. Well, not literally for you, maybe to you on your sheet of paper or computer screen. Here is another great popular character that is great to draw in a very easy to understand fashion. This tutorial only has a total of five drawing steps and every single one of them is going to be easy to follow, understand, and replicate. Here is "how to draw Winnie the Pooh easy", step by step. This was one of my favorite tutorials that I made today. I think it's because of his adorable childlike face takes me back to when I was a kid. I used to be obsessed with Pooh Bear and all of his friends at the Hundred Acre Wood. Christopher Robin, Rabbit, Piglet, Tigger, Owl, Eeyore, and even Roo where among my favorite faces in all of the movies and cartoon series. I could never understand why Piglet and Pooh where so darn close. When I used to watch the movies, I didn't remember them being together a lot. I remember Tigger and Pooh hanging out all the time, but then it turns out that Tigger is best friends with Roo. The whole thing has go me all wireded up just thinking about it. Again, you will be drawing Winnie the Pooh in a three fourth fashion, but this time I drew the head turned a bit more so that it actually looks like a full frontal of Pooh Bear. This was another fun task, and if you are a fan of Winnie the Pooh, you will have fun drawing him out too. I shall return so stay tuned in. peace out people and like always, enjoy!....
Step 1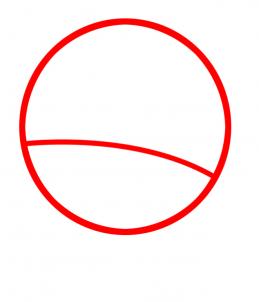 Since we are only drawing a head shot of Pooh Bear, all you need to do in this first step is make a medium sized circle and then draw a line across the center.
Step 2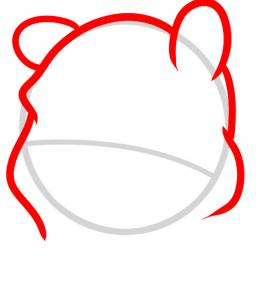 Now that you have a workable frame for the head and face, use that to begin sketching out the structure of Pooh. Start with the top of the head and then draw downward until the forehead and brow is all drawn out. You will then add the ears, as well as the cheek bone and jowl or chubby flop on the right side of the face.
Step 3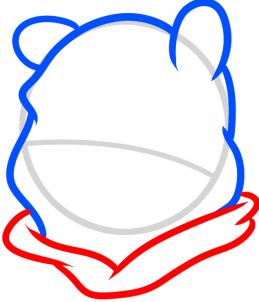 Now that you have the head and face all sketched out, you can begin drawing in Pooh's shirt collar. Make this is a V like fashion like you see here. Make sure the collar is thick, and has plenty of folds as well as creases.
Step 4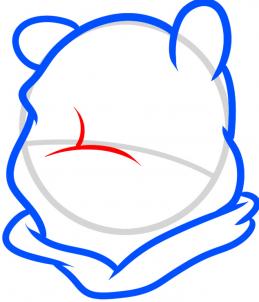 It is now time to start the drawing process for Pooh's face. Begin by drawing a simple arched line across the face for the nose area. Then make the slight light line for the bridge of the nose.
Step 5
Lastly, color in the small beady eyes, and then make the eyebrows, and his great big smile. You will then end this step by drawing out his guitar pick shaped nose, then color that in solid. Erase your mistakes as well as guidelines and shapes.
Step 6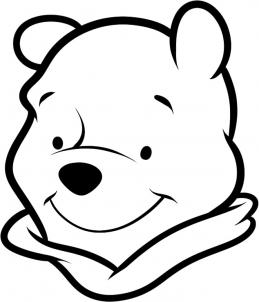 This is Pooh when all is said and done, and when the whole drawing has been cleaned up. Color him in and show people what you have just created.

You will find incredible drawing tutorials for kids with step-by-step explanation how to create great drawings. All how to draw tutorials on HelloKids are provided by our partner, Dragoart.com. Pets, Pokémon, fantstic beast and dragons, be sure you will find something to draw on Hellokids!
Your comments
1 vote(s) - Average rating 4/5
Saturday August, 08, 2015 at 11:55 AM
superbbbbbbbbbbbbbb.
View other comments