How to Draw Clothes for Kids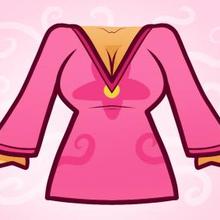 It's time that I get busy today and upload some more fun tutorials that I think many of you might enjoy. To kick things off, how about I show you all "how to draw clothes for kids", step by step. The idea to make this lesson came from, once again my eight year old sister. She asked me how she can draw clothes on her figures that she was creating. This is a very basic and simple lesson that will show any skill level artist the secrets to making clothes in a very easy, simple, and fun manner. I always say that making easy tutorials is fun for me because all I have to do is create a few lines and bang, I'm done. The end results are always neat, fun, and colorful. The clothing that is in the main image is a blouse for a female character. The simplicity is great and I bet you can complete this task in about five minutes. Have fun guys and be sure to always upload your finished work so others can see how you did. Adios and stay tuned in for more drawing fun!....
Step 1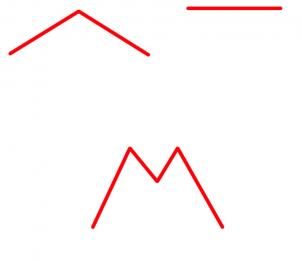 We will be drawing a few pieces of clothing to dress up your characters or figures. To start make three different design lines. The one to the far upper right hand side is just a straight horizontal line. The other next to it on the left is a wide mountain like peak, and the lining below is just a big wide M.
Step 2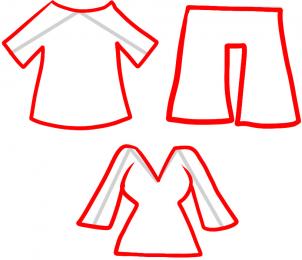 Using the guides you just drew, draw out a simple shirt, pants, and blouse. The great thing about these three pieces of clothing, is that you can actually fully dress a male or female figure. The pants can be used for both sexes, and obviously the shirts are distinguishable between male and female.
Step 3
For the last drawing step, all you need to do is draw in some trimming, seam lines, pockets, and a set of hands, and upper body detailing to the blouse. If you are happy with your results, clean up the drawing to erase any mistakes and guides.
Step 4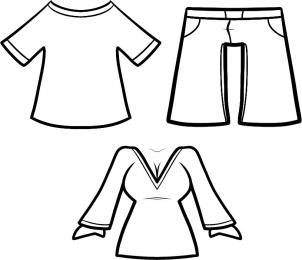 Here is what your clothes for kids should look like when you are all done. Color them in and use what you have learned to your advantage.

You will find incredible drawing tutorials for kids with step-by-step explanation how to create great drawings. All how to draw tutorials on HelloKids are provided by our partner, Dragoart.com. Pets, Pokémon, fantstic beast and dragons, be sure you will find something to draw on Hellokids!