How To Draw A Brachiosaurus Dinosaur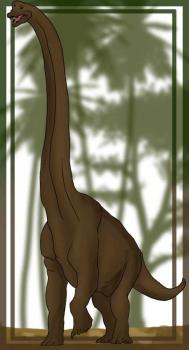 Now this was an impressive dinosaur, the Brachiosaurus, one of the largest reptiles or animal to walk the earth. This particular dinosaur lived during the Jurassic Period and is recognized world wide. I first became a fan of this large lizard when the dinosaur cartoon came out œThe Land Before Time. Little foot was one of the main characters in this movie and he was in fact a Brachiosaurus. Though this animal has been considered the largest dinosaur known to man, over time man discovered a number of other big species such as the Titanosaurids and the Argentinosaurus, which exceeded the Brachiosaurus under sheer mass terms. This dinosaur lived between 140-150 million years ago. Brachiosaurus was an herbivore, meaning they only ate plants. They had long necks and tails and their body resembled a giraffe. They measured at 82 feet in length, and were able to raise its head to about 42 feet high. The weight of one of these massive dinosaurs ranged from as small as 16 tons to a whopping 86 tons. I had a lot of fun drawing this sketch; it brought back a lot of childhood memories. When I decided to create this tutorial on "how to draw a Brachiosaurus", I wanted it to be as simple as possible. Learning to draw this dinosaur has 8 steps and if you wanted you can color the image to look like a cartoon. Either way you want to do it is fine, after all you did take the time to draw it. I love this sketch.....
Step 1
The first step is to draw a rough circle and a long line for the neck and bottom part of the body.
Step 2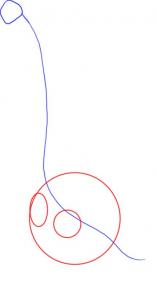 After that step make a large circular shape for the body and two smaller circles for the legs.
Step 3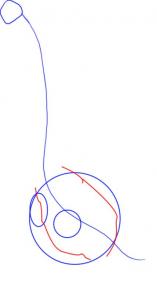 Now you can start sketching the body with some rough lines.
Step 4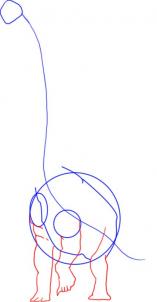 This is kinda a difficult part because you really have to sketch his legs out. The easiest way to do this is picture elephant legs and take it from there.
Step 5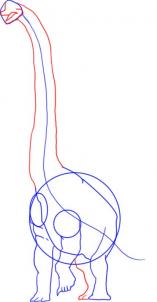 Now fill in the sides of the neck to make them full and start to shape the face. Don't forget the back leg.
Step 6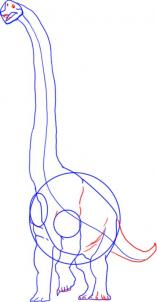 Now get more detailed in this step. Continue with the detailing and sketch out the tail of the dinosaur.
Step 7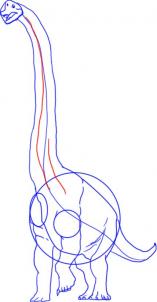 In this step is just adding some touch up detailing. Remember, dinosaurs are reptiles so that means they have the skin of a lizard. When you sketch the details keep in mind that they are reptiles, this will help you with the detail lining of the dinosaur.
Step 8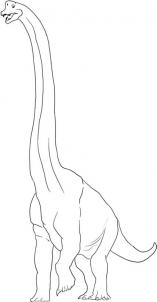 Erase the unwanted lines and the guide lines and your done. All that is left to do dis color him up and hang um on your frig or wall. Good Job.

You will find incredible drawing tutorials for kids with step-by-step explanation how to create great drawings. All how to draw tutorials on HelloKids are provided by our partner, Dragoart.com. Pets, Pokémon, fantstic beast and dragons, be sure you will find something to draw on Hellokids!