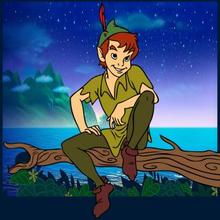 This tutorial today is going to be on a childhood character that I love. He lives in a magical place where there are fairies and pirates, mermaids and Indians. That's right I am going to show you how to draw Peter Pan. I know everyone knows who Peter Pan is, I mean if you don't than I guess you where a real deprived child. It all started back in 1902 when Peter made and appearance in a small sections of the adult novel The Little White Bird. The character became a hit and people wanted more of him, so in 1904 the adventure opened a new door for the witty young fictional star with the debut play Peter Pan or also known as œThe Boy Who Wouldn't Grow. It all happened because a Scottish journalist decided to write the story of this delightful character, and his name is J.M Barrie. He use to read the story of Peter Pan to five children that he eventually shared a close bond with, he was more like a big brother than anything else, the children where the sons of Sylvia Llewelyn Davies which he also formed a long friendship with. She was some what of a motherly figure to Barrie. Sylvia's husband Arthur started to feel like Barrie was sort of invading in on the family because of all the time he spent there in their home. Eventually Sylvia and Arthur died and J.M Barrie became the legal guardian of the five orphans. The story of Peter Pan truly is heart felt and fun with a variety of adventures. The story immediately takes off as soon as Peter enters Wendy's room and helps the three children fly to Neverland with the help from Tinkerbells fairy dust. When they meet the lost boys the adventure for these young children just gets better and better until Tinkerbell becomes jealous of Wendy because she feels that Peter likes Wendy more than he does her. Eventually they all run into the Red Indians while Peter introduces Wendy to the mermaids. Captain Hook comes into play as well when the jealous pixy makes a deal with him because Hook says he will rid Wendy from Neverland for ever. Peter Pan eventually comes to everyone's rescue and saves the day while Hook is left at the mercy of his other arch enemy the clock ticking crocodile that bit off Captain Hooks hand in a previous battle between Peter and himself. The main characters in the story are Wendy, Michael, and John and they set sail on the journey that seemed to last a lifetime. The story will remain a favorite of mine probably until I die. Disney recreated the story in 1953 and became a classic with them as well. This tutorial will show you a fun way to draw Peter Pan step by step. The online instructions are always easy to understand and read to start you on your way to a fun filled tutorial journey. I will see you all very soon my fellow artist.....
Step 1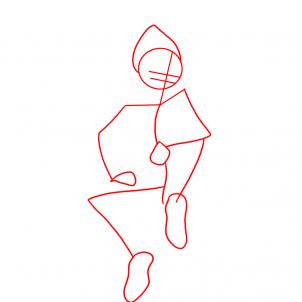 Lets start off this first step the way we always do, drawing out the guidelines and circle shapes to help make this tutorial a whole lot easier. Start by drawing an acorn shape for Peter's head and sketch in the facial guidelines. Next draw all the connecting guidelines and draw the shapes for the hands and feet on the ends of the guidelines.
Step 2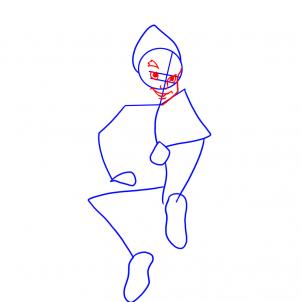 Now here in this step which is step 2, you will begin to draw out Peter Pans face and parts of his body. Start by drawing out his eyes, eyebrows, nose, mouth and indentation for his chin. Next draw out the hair line that looks sort of wavy. After all the detailing is done on his face start drawing out his clothes beginning with the sleeves on his shirt, and draw the shapes of his arms and hands on both sides and draw out his legs and parts of the branch that he is sitting on.
Step 3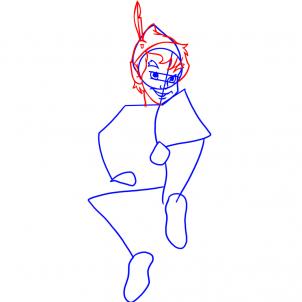 Step 3 is basically going to show you how to finish off Peter Pans clothes and you will also begin sketching out his adorable little signature hat. Starting at the top draw out the hat as shown and draw out his ear as well. The fill in the empty eye sockets with a pair of eyeballs and pupils. Move down a bit and draw out his shirt at the collar and on the right sleeve. Next draw out the bottom half of his outfit and sketch out his shoe on the right and detail the left one. Thicken the branch as shown and when your drawing looks like the one above move to the next step.
Step 4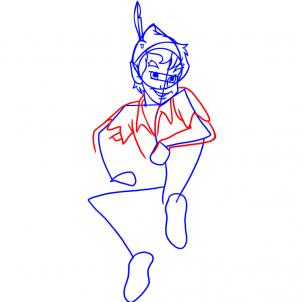 This is the last step were you will actually be drawing any further. All you will need to do here is draw out his feather in his hat on the left side and detail all the grooves in the tree branch that he is sitting on. After all the rest of the steps are done you can go ahead and erase all the guidelines and circle shapes that you drew back in step 1.
Step 5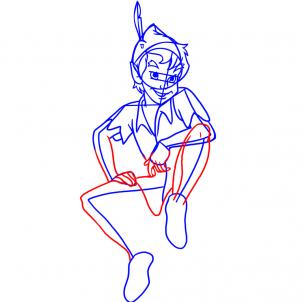 After you've completed step 4, you'll have to add some extra details. Begin this step by drawing the legs, hands and arms for Peter. Hands can be pretty difficult to draw. I have plenty of tutorials on how to draw hands, so go check them out. For now, move onto the next step.
Step 6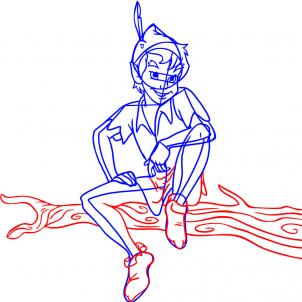 I think this is a pretty hard step. When you get to the calf of the legs, you'll have to draw the tree too. The tree really isn't hard. I usually draw the bark details with a couple of swirly lines here and there. To end this step, finish off Peter's shoes.
Step 7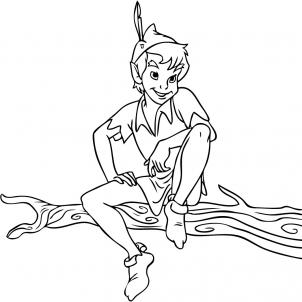 This is what your finished drawing should look like when you are completely done. All that is left to do is color in the handsome Peter Pan. And how easy and fun was that? I know, pretty easy. This concludes the tutorial on how to draw Peter Pan. I hope you had as much fun as I did.

You will find incredible drawing tutorials for kids with step-by-step explanation how to create great drawings. All how to draw tutorials on HelloKids are provided by our partner, Dragoart.com. Pets, Pokémon, fantstic beast and dragons, be sure you will find something to draw on Hellokids!