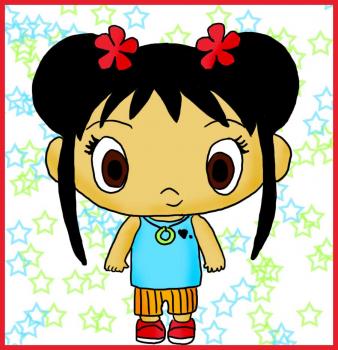 "Ni hao!" That means hi in Chinese and this tutorial is going to be on a cute cartoon character from Nick Jr. called Kai-lan. She is a spunky little girl that is a brand new edition to the Nick Jr. line up. To me she is almost like another Dora from Dora the Explorer because she teaches you how to speak in a different language while speaking English as well. Kai-lan happens to be a 6 year old pre-schooler that is adventurous and loves to play and teach other children how to speak her native language while always needing kid's help to find creative solutions to the daily dilemmas that come their way! She goes on exciting little adventures within her own back space with her pals that happen to be all animals. First there is a 5 year old tiger named Rintoo which happens to be Kai-lan's best friend. Then you have a 3 year old little white monkey named Hoho who is also the youngest out of all the friends, next is Tolee a 5 year old Koala that absolutely adores Panda bears. He is also known to be the thinker of the bunch as well. Than we have Kai-lan's grandpa YeYe, what he does for Kai-lan is simple, he keeps her educated about her Chinese culture by keeping her mind filled with the colorful traditions and customs of her heritage. He also guides his granddaughter to answer her questions by thinking for herself as well as guiding her through life. I love this cute character, and because of that I thought it would be cool to teach you how to draw Kai-lan step by step. This tutorial has easy to read instructions that will put you on easy street when it comes to learning how to draw. Have fun and be colorful.....
Step 1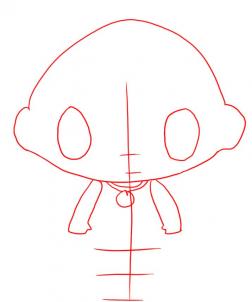 In this first step you will be drawing out the guidelines and shapes as you do in all first steps on DragoArt. For Kai-lans face you will draw a big round circle for the head with the outline of ears as shown. Next draw in two big shapes for the eyes and facial guidelines as well. Next draw the shape for her arms and upper part of her shirt. After the shapes are drawn out draw the guidelines as shown.
Step 2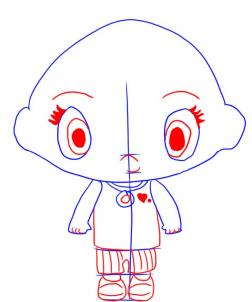 Next what you are going to do in this step is draw in her big brown eyes. Start by drawing a smaller circle within the larger one and then color a circle for her pupil. Next sketch in some thick bold eyelashes and thin eyebrows. Now draw her nose and small mouth. Now you are ready to draw out the rest of her body which is basically a box. Box off her shirt and draw in her pants and feet as shown.
Step 3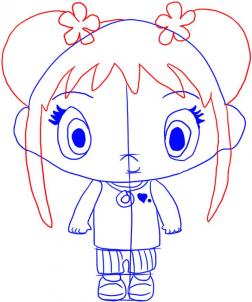 Here is the last step o this tutorial. What you need to do here is draw in her hair which is very simple indeed. After you draw out her hair and cute flowers that rest on the sides of her head you can erase the guidelines and shapes you drew back in step 1.
Step 4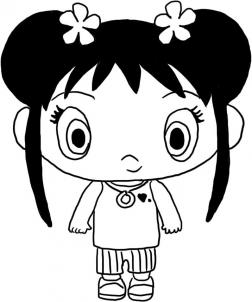 That is it you are done. All you have to do is color her in. That was a very easy image to learn how to draw. That will complete this tutorial on how to draw Kai-lan from Nick Jr.

You will find incredible drawing tutorials for kids with step-by-step explanation how to create great drawings. All how to draw tutorials on HelloKids are provided by our partner, Dragoart.com. Pets, Pokémon, fantstic beast and dragons, be sure you will find something to draw on Hellokids!