How to Draw Jake Long from American Dragon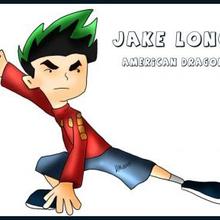 Are you all ready for the other character from American Dragon? Now that you all learned how to draw Jake Long as the dragon, now you will be learning how to draw Jake Long the 13 year old kid. As I mentioned before Jake Long is your average teenaged kid that lives with his parents Mrs. Susan Long and Mr. Jonathan Long. He also has a younger sister named Haley. What is not so normal about Jake is that he is a dragon, and not just any dragon, he is from a long line of dragons. The theme song to the show is very ear catching too. I always find myself singing it out of the blue, it goes like this; He's cool, he's hot like a frozen sun He's young and fast, he's the chosen one People, we're not braggin' He's the American Dragon He's gonna stop his enemies with his dragon power Dragon teeth, dragon tail, Burnin' dragon fire A real live wire American Dragon "Dragon Up!" American Dragon! "Oh, whoa" He's the American Dragon free with the dragon His skills are getting faster with Grandpa the master His destiny will walk up streets Show time, baby, for the legacy! American Dragon! From the "J" to the "A" to the "K" to the "E"! I'm the Mack daddy Dragon of the NYC, ya heard? He's the American Dragon! Jake, get back to work! That is such a cool song especially the part where they keep saying œAmerican Dragon. Anyways enough with the song and on with the show, Jake Long is taught by his old grandfather Luong Lao Shi and Fu Dog a 600 plus year old Shar Pei. Together they teach Jake how to use his magical powers which include shape shifting, fire breathing abilities, and other cool magical abilities that he still has to learn and control. Jakes job as a dragon is to protect other magical creatures secretly living among the humans and other scoundrels in New York. These magical creatures include a herd of unicorns, leprechauns that live among Wall Street, and a few other magical creatures that walk amongst the streets of New York. Jake isn't all work and no play, he is also the head of a skateboard team, he enjoys reading comic books, plays video games and has a crush on the new girl in town named Rose which also happens to be a member of the Huntsclan. She has a birthmark on her palm and wrist of a Chinese dragon known as the Mark of the Huntsclan. They both learn of each others secrets and sometimes they help each other when they need a hand. The two eventually become boyfriend and girlfriend, and become close with one and other. This is a fun tutorial and you will too learn how to draw Jake Long from American Dragon step by step. The instructions send you on your way to becoming a great artist. I will see you all very soon with another tutorial.....
Step 1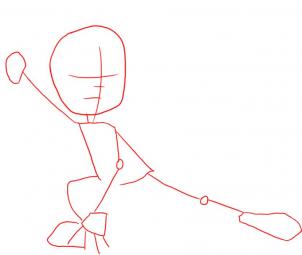 In this first step of drawing Jake Long you will be drawing the shape of his head which looks like a basketball. Now from the shape of his head draw the guidelines that are attached to one an other. After you draw out the guidelines you can draw out the remainder of the shapes like the hands and feet.
Step 2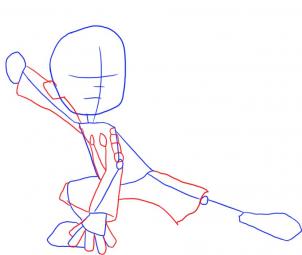 Now you will be drawing out the the shapes of his body starting with his arms and legs. These shapes are very simple to draw out because they are just cone looking squares. After you get the shapes drawn out you can work on drawing his fingers that are stretched across the floor. These too are simple to draw because again they are squared shaped.
Step 3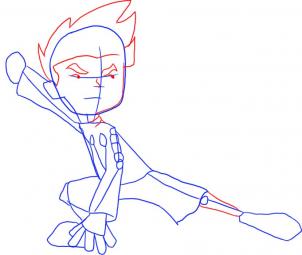 Okay now you are going to draw out Jake Long's face and the begining steps of his hair. Start by drawing his thick looking eyebrows along with his Chinese looking eyes. Draw in a slight line for the nose and the shape of his face on the right side. After your done with that draw out the shape of his spiked hair style and also draw out the shape of his leg.
Step 4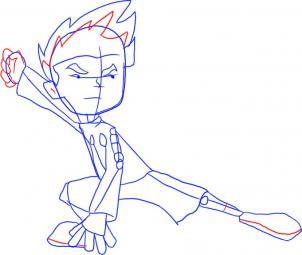 This last step involves drawing out the rest of his hair style, his left hand, and his two feet. Start by drawing out the lining inside of his hair which is going to be the tips that are colored green. Next, draw out the left hand that is clutched in a partial fist. Detail his sneakers with simple lining and now you are ready to erase all the guidelines that you drew in step 1.
Step 5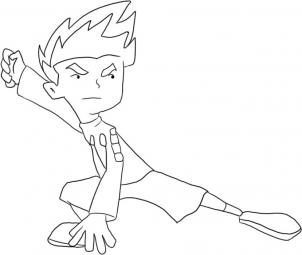 This is what your Jake Long should look like when you are completely done with your drawing. And now all you have to do is color him in. That's it, your done. That will do it for this simple tutorial on how to draw Jake Long from American Dragon.

You will find incredible drawing tutorials for kids with step-by-step explanation how to create great drawings. All how to draw tutorials on HelloKids are provided by our partner, Dragoart.com. Pets, Pokémon, fantstic beast and dragons, be sure you will find something to draw on Hellokids!