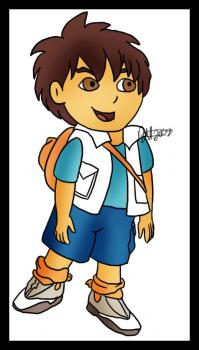 Hi again folks and welcome to another fun filled tutorial here at DragoArt. Today I thought that it would be fun to put up a tutorial on a character that young children absolutely love. He is the cousin to Dora the Explorer and he kinda looks like her too. That is right, you guest it. Today you will be drawing Diego. Now Diego is an adventurer that goes the distance. Diego Mà¡rquez is an 8-year-old rough-and-tumble hero on the go that travels far and wide. This tyke loves all sorts of animals and, Diego invites all preschoolers from around the world to help him race to the rescue and save trapped or troubled animals in need of assistance. To aid him on his rescues he also has a variety of gadgets and vehicles, which includes his transforming Rescue Pack, his Field Journal, and his Video Watch. With all these handy gizmos in play, going on rescue missions is a breeze. Diego also has a few extra hands helping him out along the way like his big sister Alicia who happens to be a whiz on computers, Baby Jaguar, a Sloth named Sammy, Linda who happens to be a saliva spitting Llama, as well as many more animal friends that come to his aid when needed. He is considered to be an animal scientist that swings on vines, soars on a hang glider, or you can even catch him jet skiing down a river. In each adventure, Diego must overcome numerous amounts of obstacles and problems, like the Muddy Mud Slide or the troublesome Bobo Brothers that often try and get in his way to keep him from reaching his goal. Personally I like Diego and his crew. I will sometimes hear myself humming and singing the opening song when his show starts. In this cool tutorial you will learn how to draw Diego step by step. The detailed instruction will show you how simple this tutorial really is. Any kid from any age will have a blast drawing their favorite cartoon character. I hope you lots of fun, and I will see ya later people.....
Step 1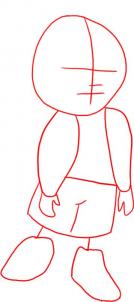 Lets start this tutorial by drawing out the guidelines and shapes of Diego. Start by drawing out the shape of his head along with the facial guidelines. Now draw out the top torso shape of his body including the banana shaped arms and the the squared shape shorts. Next draw out the shape of his hands and then his shoes. Now the two short lines for his legs.
Step 2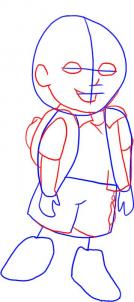 Now in this simple step you will be drawing out the shape of his eyes which are acorn shaped. Now draw out the shape of his half moon shaped ear that stretches into his face and jaw. Next draw a simple open smile with a tiny nose. Next you will be adding in his shirt lining that is slightly wider than his arm. Now draw out the shape of his backpack along with the lining for his shorts. Repeat the step for the arm on the right hand side.
Step 3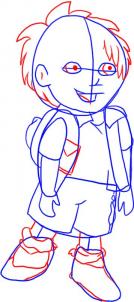 As you can see the further you get in the steps the more like Diego he seems. Now in this step you will have to draw out the shape of his messy looking hair. Next you will draw in the eyes themselves like the eye balls and pupils. Next detail the inside of his mouth. Now draw out his pocket on the left hand side and then his boots and socks.
Step 4
Now all you will be doing is finishing off his hair and his jacket vest he wears all the time. Draw out the long strap that he also wears for his backpack. Now detail the fingers on his hands and the detailing on his shoes. Now you can erase all the guidelines and shapes that you drew in step 1.
Step 5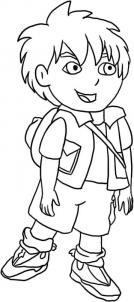 this is what your Diego should look like when you are done completely. All you need to do is color him in. That will do it for this tutorial on how to draw Diego step by step. I hope you had fun and i will see you all shortly.

You will find incredible drawing tutorials for kids with step-by-step explanation how to create great drawings. All how to draw tutorials on HelloKids are provided by our partner, Dragoart.com. Pets, Pokémon, fantstic beast and dragons, be sure you will find something to draw on Hellokids!