How to Draw Danny Phantom
This is one of my last tutorials for the day. I drew all these characters over the past week and that is why I haven't submitted anything for such a long while (well to me that is a long while). So far I put up tutorials on Quagmire, Tweety bird, Oogie Boogie, and this one I am about to submit now. But that is not it, after this tutorial there is one more that I have been working on from time to time and I finally finished last night. But that is not what you will be learning how to draw today. Today you will all have the opportunity to learn how to draw Danny Phantom from Nickelodeon. I have been watching Danny Phantom for the past two months now and besides Danny as being one of my favorite characters there is another who just so happens to be a gothic chic like me. Her name is Samantha or œSam Manson. She is a vegetarian amongst other things and also happens to be one of Danny's best friends. She helps Danny fight off his ghostly enemies. But Sam is not the only one that is helping him fight off the evil ghosts, his other best friend is Tucker Foley. Danny is just a regular 14 year old boy that attends Casper High. His parents happen to be ghost busting hunters that rid the community of ghost. Sort of like the Ghostbusters. Danny's real name is Danny Fenton, but when he transforms into his ghostly self he goes by the name of Danny Phantom. The way Danny became a super hero was purely by accident and curiosity. While walking around one day he œaccidentally stepped inside of his parent's Ghost Portal. While in the Portal he presses a button that zaps his entire body, mixing his DNA with ectoplasm. This turned regular Danny into half boy half ghost. The animated series is pretty funny. As a matter of fact I don't think there is any cartoon from Nickelodeon that is bad or not funny. They come out with the coolest cartoons and shows. I remember watching that show Double Dare when kids had to do some nasty and fun stuff to win certain challenges. So today I will show you how to draw Danny Phantom step by step. I hope you learn something new form this tutorial. I will see you all again soon, very soon.....
Step 1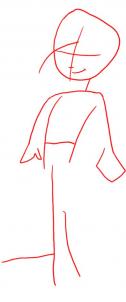 Start this first step with the basic guidelines and shapes to form a goo frame. Draw out the shape of his head with facial guidelines drawn in and then the guidelines for his shoulders, arms and hands. Now what you will to do is draw out the guidelines for his chest and then his left legs and lining for his foot on the left.
Step 2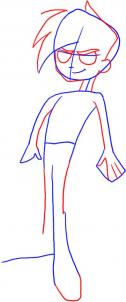 Now you will need to draw out the lining for his hair style and then his eye brows and then the shape of his eyes. Now shape up his face and draw out his round ear and then the shape of his neck. Next draw out the arms and hands and then the shape of his legs and right foot.
Step 3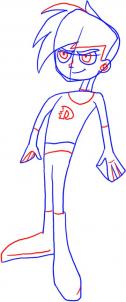 Okay now you will finish off his hair and then draw in his eyeballs and then the inside of his ear with a simple swirl. Next draw out his collar on his uniform and then the "D" symbol. Draw out all the lines to form the belt and sleeves along with the lines for his fingers and then draw out his left boot.
Step 4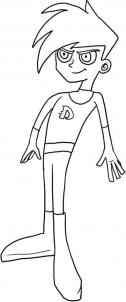 After you erase all the guidelines and shapes that you drew in step one. This is the finished drawing when you are completely done. All you have to do is color him in and thats it your done. That will end this tutorial on how to draw Danny Phantom step by step. I hope you liked this tutorial I am real proud of the colors and how it came out.

You will find incredible drawing tutorials for kids with step-by-step explanation how to create great drawings. All how to draw tutorials on HelloKids are provided by our partner, Dragoart.com. Pets, Pokémon, fantstic beast and dragons, be sure you will find something to draw on Hellokids!