How to Draw Rolie Polie Olie
This is going to be a fun tutorial because it involves drawing a very cute character from a children's video that my toddler sister loves to watch. Even thought my five year old sister adores this character, it was my twelve year old sister that asked me to draw him and post him as a tutorial. So that is what I am doing now. Today in this next tutorial you will learn how to draw Rolie Polie Olie. This is a character that was developed by William Joyce and distributed eventually by the good people at Disney. He is a part of Disney's Playhouse that is aired on the Disney channel. Here in my family we rarely watch Rolie Polie Olie when the show comes on, instead we collect or should I say my sister collects the mini movies that are available on DVD. Her favorite movie is called Rolie Polie Olie œThe Great Defender of Fun. First off I think I should tell you that Rolie comes from a place called Polieville and he lives with his robotic family. His father's name is Olie and he has a kid sister named Zowie and a pet dog Spot. Of course he has a mother Polina and Grandfather Pappy that is a part of his family as well. I watched the movie once with my sister and I have to say it was pretty cool and cute at the same time. The whole movie is about Rolie saving Polieville from being flushed of fun and happiness by the dark Gloomius Maximus who travels in space on his space like pirate ship. Gloomius Maximus wants to steal all of the fun from Polieville and make everyone go into a deep slumber. In the process Zowie, (Rolie's baby sister) gets captured by Gloomius along with his Pappy. Since Gloomius never had a birthday party and he doesn't know what fun feels like he embarks on a crusade to ruin three year old Zowie's party. It is up to Rolie to save the day, rescue his sister and Pappy, and to also use his Super Silly Ray to restore fun to Polieville. He also shows Gloomius Maximus what it feels like to have a birthday party and experience fun. Of course Rolie Polie Olie gets the help from Space Boy. This tutorial will show you how to draw Rolie Polie Olie step by step. He is a very easy character to draw. I used the image from my sister's poster that she has hanging in her room as a reference. I hope you have a butt load of fun with this tutorial I will be back in a bit with one more drawing tutorial for you all.....
Step 1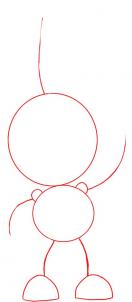 Okay this is a very easy tutorial. The first thing you are gonna do is draw a perfect medium sized circle for Rolie's head. Next draw another perfect circle a bit smaller than the head for his body. After you do that you can draw out the guidelines for his arms, legs, and antenna. From the leg guidelines draw out the shapes of his shoes or feet.
Step 2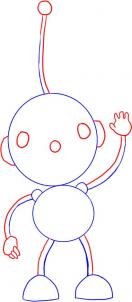 Next thing in this step is to thicken the shape of his antenna on the top of his head and draw a small sized circle for the tip of the wired antenna. Next make two small round eyes and a small round nose. You will then make a half circle that is attached to the sides of his head. You will then thicken out the shapes of his arms and legs as well and draw out the hands.
Step 3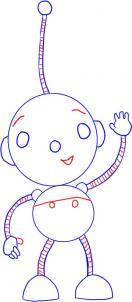 On the antenna, arms and legs draw lines to make the shapes look more like wire. You will then add eyebrows and a smile to Rolie's face. Draw a line on the belly with two tiny circles that are supposed to look like buttons. The lastly add thumbs on both hands. You can now erase all the guidelines that are visible if any and move onto the next step.
Step 4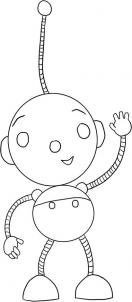 This is what your adorable character should look like when you are completely done. All that is left to do is color him in and place him in your finished section. That will end this tutorial on how to draw Rolie Polie Olie step by step. I will be back with one more tutorial for my fellow artist. Stick around people.

You will find incredible drawing tutorials for kids with step-by-step explanation how to create great drawings. All how to draw tutorials on HelloKids are provided by our partner, Dragoart.com. Pets, Pokémon, fantstic beast and dragons, be sure you will find something to draw on Hellokids!