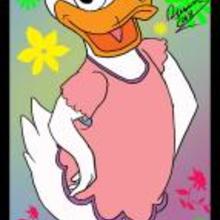 Well so far I have drawn out and submitted many tutorials on this wonderful site. There is a category under the cartoons header that I was browsing through just two days ago. There was one particular category that I clicked into and began exploring. What I found is, I haven't got enough tutorials on some of the most famous Disney characters that many children (including myself) grew up with. I mean yeah sure I have Disney characters of today, but what about the very first characters that came out way before some of the ones that are here now. Now because of that, today I will be showing you all how to draw Daisy Duck. You remember her right? She is the best friend to Mickey Mouse's girlfriend Minnie Mouse. Daisy is a pretty duck that has a lot of spunk and character. She is almost very different from Minnie because Daisy doesn't tolerate a lot of the stuff that Minnie would. Daisy Duck is also the girlfriend of Donald Duck and the foursome have been hanging out and staying strong for decades. They are the first true members of the Mickey Mouse Club and they are one of the biggest visited characters at Disneyland and Disney World. Daisy can definitely be identified as being a sassy duck with class. She likes to be referred to as a woman because she has a strong mind set and because she drives the guys crazy. This chic made her first debut on the big screen in 1939. She was introduced as Donna Duck. She stuck with the name of Donna until 1940 when she appeared in an episode called œMr. Duck Steps Out. It was then she gained her permanent stage name of Daisy Duck. I mean look at her, she almost looks like a daisy doesn't she? Daisy and Donald are similar when it comes to there temper because they both have over the top steam popping from their heads when they are furious. The difference between the two is, she can control her anger far better than Donald. There are also a few episodes where the two love birds are no longer dating and they decide to go their separate ways. That was all fine and dandy until the two of them started missing each other tremendously. Daisy is also the aunt of triplets April, May and June Duck, as Donald is the uncle of Huey, Dewey, and Louie. They always say that opposites attract and that theory is proved right for Donald and Daisy Duck. This tutorial will show you how to draw Daisy Duck step by step with easy to follow directions. I hope you have fun with this one. I will be back soon, so hang tough and wait till I return to all with more drawing fun.....
Step 1

Okay begin this first step by drawing a circle for her head and then add the facial guidelines. Next draw the shape of her upper body as shown to you here including the shape of the short sleeves. If you look at it real close, her upper body resembles an egg shape. You will then give her a bottom or tail and draw the guidelines for her arms and legs and then draw two circles for her duck feet.
Step 2

You will then start this step by drawing out the begining steps of the bow. Now draw two big circles for her eyes and then add her eye lids and one lash. The next thing you will be doing is drawing out the lining for her duck bill. After that begin shaping out her arms and then feather up her fluffy looking tail. You will lastly sketch in the shapes of her legs before you go.
Step 3

In this step you will complete the shape of the bow and then add the rest of the eye lashes. Next finish off the shape of her bill and then draw a curved line for the collar of her shirt. Put an arch in her back and then ass some ruffle to her sleeve. Feather up the bottom of her torso or where her feathers stop and her legs begin. You will then shape out the shoes
Step 4

In this last drawing step you will detail the bow with crease lines and then color in the pupils of her eyes. Next thicken her collar and then add some ruffle lines to the bottom of her shirt. You will erase all the guidelines and shapes that you drew in step one to clean up your drawing.
Step 5

This is it, your finished drawing of Daisy Duck. All you have to do now is color this beautiful girl in. Well time for me to go, but don't worry I will be back soon. I have something special for you all when I return. In the mean time you did an awesome job with this tutorial on how to draw Daisy Duck step by step.

You will find incredible drawing tutorials for kids with step-by-step explanation how to create great drawings. All how to draw tutorials on HelloKids are provided by our partner, Dragoart.com. Pets, Pokémon, fantstic beast and dragons, be sure you will find something to draw on Hellokids!