How to Draw Mowgli from The Jungle Book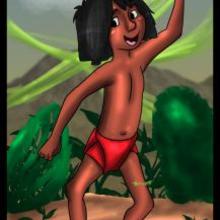 Howdy everyone, I am back with some more drawing tutorials for the day and this time they are going to be on more Disney characters. Hey, I'm sorry if I am on a Disney character frenzy. I figured that these animated animals and humans need to make an appearance on DragoArt because they are very popular and funny. So with this first tutorial I will show you how to draw Mowgli from The Jungle Book. Now for those of you that have seen this movie you should know that Mowgli is the main character of the story. He is a young Indian boy that grew up in the jungle and was raised by pack of wolves. Father Wolf has raised this human boy and thinks of him as one of his own cubs. His wolf mother Raksha also loves the man cub very much and considers him as one of her pups as well. Unfortunately for Mowgli word has spread that a tiger named Shere Khan has returned to the jungle and has reason to believe that a human boy lives amongst the animals. This is very dangerous because he would surely kill the harmless boy in order to keep any kind of man out of his jungle even if that man is a boy. It is Bagheera's job to take Mowgli back to the man village before Shere Khan gets a hold of him. The only problem with that is Mowgli doesn't want to leave his jungle home. Mowgli is described as being a brave young boy that is as innocent as a baby. He is also very gullible and intellectually ignorant. He leaves his wolf family unknowingly aware that he was never to return home until he is told the sad news by his Black Panther pal Bagheera. Mowgli is an incredibly cute character that gets taken on an adventure before he realizes that maybe the man village is not such a bad place to be. I will show you how to draw Mowgli from The Jungle Book step by step. The instructions are easy to follow and each step has clear directions to help make this lesson a breeze. I will be back in a bit with more drawing goodies so stay tuned.....
Step 1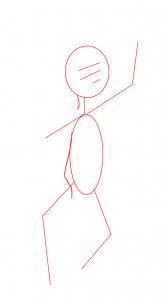 Okay as you know what you will do is draw the guidelines and shapes to make a dainty frame for Mowgli's body. You will start by drawing the shape of his head and then add the facial guidelines. Next draw a narrow oval shape for his torso. You will end this step by add the limb guidelines for the arms and legs.
Step 2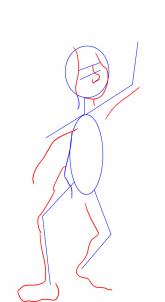 Now in this step what do you think you will be doing first? Right, drawing out the shapes of his arms and legs as well as his feet. You will first draw in the his hair line that rest on the left side of his face as well as shape out his face on the right side and then draw in his chin. Add the feet and move to the next step.
Step 3
Now that you have completed steps one and two, you are ready to start steps three and four. In this step you will start by drawing the outlining of Mowgli's hair and then add his eye socket lines. You will then draw out the outter part of the left arm as well as some of his fingers. Then make the begining lining for his stomach and loin cloth. You will also need to draw out the shape of his left leg and foot as well as add the toe lines.
Step 4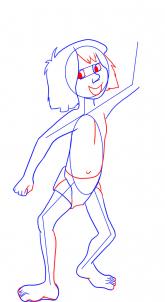 Now in this step as you can see Mowgli is starting to take form. By the time you are done here you will be able to tell yourself "wow, I'm almost done". You will now sketch out more of his hair which include is his bangs. Then color in his pupils and then add his cute smile. You will then add the shaping of his chest, loin cloth and belly button. When you are done you can end this step by drawing the rest of his left legs and foot.
Step 5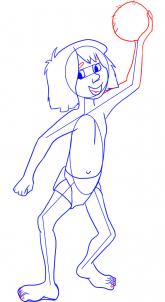 You made it at last! So far you have done an excellent job and now you are ready to finish Mowgli off. What you will do is add his eyebrows and then his tongue. Finish drawing his right arm, hand and coconut. Guess what you are ready for now? Yup, you are ready to start erasing all the guidelines and shapes that you drew in step one.
Step 6
That is it you are done. You finally finished this tutorial on how to draw Mowgli from The Jungle Book step by step. All you have to do now is color him in. See, now wasn't that easy as 1-2-3? I know right. But guess what? There is more to come so stay tuned.

You will find incredible drawing tutorials for kids with step-by-step explanation how to create great drawings. All how to draw tutorials on HelloKids are provided by our partner, Dragoart.com. Pets, Pokémon, fantstic beast and dragons, be sure you will find something to draw on Hellokids!