How to Draw Brandy from Brandy and Mr Whiskers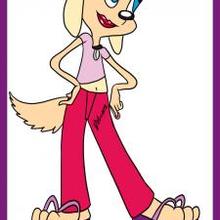 Welcome back members and visitors of DragoArt.com. I am Dragon_Queen and I am back with my last tutorial for the day. For my next drawing lesson I will be showing you how to draw Brandy from Brandy and Mr. Whiskers which is an animated cartoon series that airs on the Disney Channel Network. Brandy Harrington is a fifteen year old dog originally from Florida. You will often hear her brag about how great her family is in various episodes. She lives with a rabbit named Mr. Whiskers in the Amazon forest due to an airplane accident caused by the fluffy white bunny himself. The show is very funny and I find myself sometimes laughing at the most stupidest things. There is this one episode where Brandy wins a contest where she gets to decorate her tree house in the type of style she is accustomed to. You see, Brandy loves the finer things in life and because of her situation she has to put up with banana leaves and non flushing toilets. Brandy is a very prim dog as well as very pretty. Her rabbit roommate Mr. Whiskers is a kind soul that is simply honest and helpful. He is always seen helping Brandy out when she needs assistance. This tutorial will show you how to draw Brandy from Brandy and Mr. Whiskers step by step. Like always the instructions are simple to read and the steps are easy to follow. I will be back tomorrow with more cool tutorials for you all to learn from. Until then folks, I bid thee farewell.....
Step 1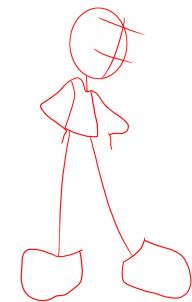 Start this first step by drawing out the circle for her head and then add the facial guidelines. Next draw out the small shaping of her torso. You will lastly add the long leg lines and then the shapes of her shoes or feet.
Step 2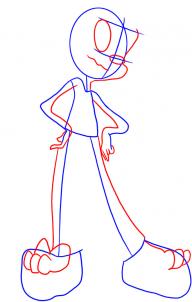 Next in this step you will start drawing out the shape of the eyes, nose and then a thin line for her mouth. Once that is done start shaping out the face structure on the right side and make sure her cheek is added. Draw the arm shapes as well as her feet, toes and flip flop straps.
Step 3
Now in this next step you will start drawing out the shape of the top of her head and then her ears. make a line for the bottom of her shirt and then a line for her tail. Finish off the shaping of her feet, shoes and toes.
Step 4
You will now add her eyebrows and eyeballs and then her cute lips. Make a collar shape and then the rest of her tail and the straps of her flip flops. Erase all the guidelines and shapes that you drew in step one.
Step 5
When you are done your drawing should look like this. All you have to do is color her in and then you have just finished this tutorial on how to draw Brandy from Brandy and Mr. Whiskers

You will find incredible drawing tutorials for kids with step-by-step explanation how to create great drawings. All how to draw tutorials on HelloKids are provided by our partner, Dragoart.com. Pets, Pokémon, fantstic beast and dragons, be sure you will find something to draw on Hellokids!