How to Draw Bolt from Bolt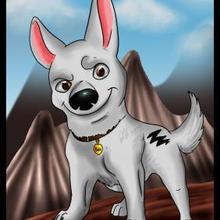 Well I'm back everyone with my fourth tutorial for the day and this time it is going to be on a Disney character from a movie that is not yet out in theaters until November 21st. The character I am talking about is a pup named Bolt and this drawing lesson will show you how to draw Bolt from Bolt. The reason why I chose to do a tutorial on a character that is not even released yet is because I watched a preview for the movie on TV Friday and I have to say it looked pretty good. Now from what I've read, Bolt is a dog that is more than mans best friend, he is an everyday action hero who was raised on the set of a hit television show. The only problem with his super hero abilities is that they are not real and he has to be faced with reality when he is accidentally shipped from California to New York. Along the way on his journey back home to his owner Penny (voiced by Miley Cyrus) he starts to realize that he is not a real super hero at all and he doesn't have super K-9 powers. He teams up with a black cat named Mittens who is a New York alley cat and a Rhino an over the top super fan of Bolts and because of that he volunteers to help Bolt get back to his Hollywood home while he travels inside of his hamster ball. The animated cartoon looks hilarious and I can't wait to see it. Bolts character is voiced by the very talented John Travolta and he is cute as a button. His distinctive mark is a thunder bolt on his upper hip along with his doggy dog tags. In this lesson I will show you how to draw Bolt from Bolt step by step. The instructions will make this character a breeze to learn how to draw because the steps are simple to follow. I will be back with my last tutorial for the day in a bit so stay tuned folks.....
Step 1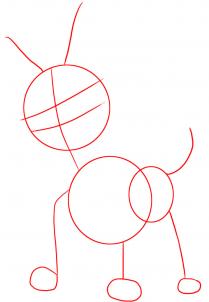 Okay lets start this first step by drawing out the guidelines and shapes to form a solid frame for Bolt as shown. You will draw a circle for his head and then add the facial guidelines. Next draw out his neck line and then two more circle shapes for his torso and butt end. Add the limb guidelines as well as the shapes for his paws or feet.
Step 2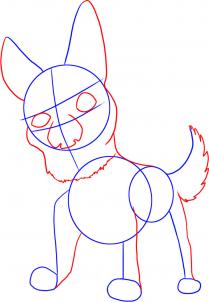 In this next step you will start drawing out the actual shapes of his face and body starting with his long erect ears. Next draw out the shape of his face and neck and then add the circles for his eyes and the shape for his prominent nose. You will then draw out the lining shape for his arched back and then his small fluffy tail. Add some lines for his legs and then proceed one.
Step 3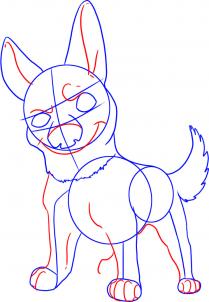 Well you are on step three and that means you are almost done. What you will do next is draw out the detailing for his ears and then sketch out the shape of his brows. Complete the shape of his nose and then give him a confident smirk. You will then draw out the shapes of all but one leg and then add the lines for his toes.
Step 4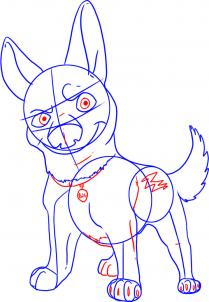 Well you have finally made it to your last drawing step and I know it wasn't that hard right? Good. What you will do here is add his eyes and pupils and then color his pupils in. You will then add some detailing to the middle of his nose as well as his neck which is the skin wrinkle. Give him his collar and then draw the distinctive bolt on his upper hip. Finish off this pooch by sketching out the rest of his legs and paws. Now you are ready to erase all the guidelines and shapes from step one.
Step 5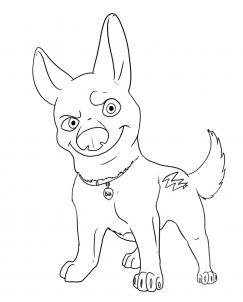 You have made it to your last drawing step and what you will have to do is color him in. That is it. You are now done with this tutorial on how to draw Bolt from Bolt step by step.

You will find incredible drawing tutorials for kids with step-by-step explanation how to create great drawings. All how to draw tutorials on HelloKids are provided by our partner, Dragoart.com. Pets, Pokémon, fantstic beast and dragons, be sure you will find something to draw on Hellokids!