How to Draw Boots the Monkey from Dora the Explorer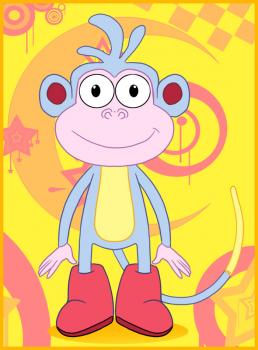 This is my third tutorial for the day and I thought I would do another simple lesson for all the young artists on this site. Right now I will be showing you how to draw Boots from Dora the Explorer step by step. Even though I am a teenage girl and my taste are geared toward teen like series and flicks, I am still very fond of Dora and her best friend Boots. Boots is a monkey that happens to be Dora's very best friend in the whole world. She met Boots one day while she was walking through the forest and ever since then they have been together just like peas and carrots. Boots has a very cheerful and enthusiastic personality and often helps Dora when they go off on their adventures. Unlike other characters on the show, Boots does not wear any clothes at all. In fact all he wears is a pair of red boots that he happens to be very attached too, hence the name Boots. Now because Boots is a monkey he is able to do front flips, back flips, somersaults, and cartwheels very easily. There are five things that Boots loves; chocolate, nuts, riddles, baseball and Rojo the fire truck. No matter how you look at this gray yellow bellied monkey, he is a lovable bundle of joy that keeps Dora happy and aids her on her journeys. This tutorial will show you how to draw Boots the monkey from Dora the Explorer step by step. I will be back with two more lessons for you all so stay tuned kiddies there is more on the way.....
Step 1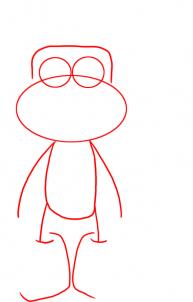 Start this first step by drawing out the guidelines and shapes to form a frame for Boots. First draw out two eye shapes and then an oval for his face and a square for the shape of his head. You will then draw out his body and add the limb guidelines for the arms and legs along with the lining for his boots.
Step 2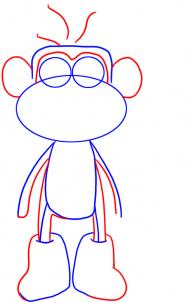 Now in this second step you will draw out the shape of his ears and then the outline around his eyes and then add his hair strands. Thicken his arms and then his body and legs. You will finish the shape of his boots and then proceed to the next step.
Step 3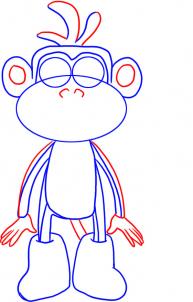 Now that Boots has a fully drawn out body frame, you will now thicken his hair strands and then add some definition to the insides of his ears by adding another inner circle. Once that is complete you will add the lines for his nostrils and then thicken his arms one more time and draw out his hands. Lastly you will draw out his tail.
Step 4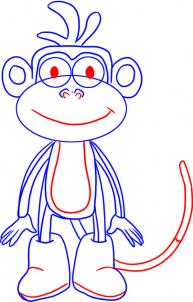 Well you have finally made it to the last drawing step of this fun lesson. What you will do now is add some pupils and then finish off the shape of his nostrils or nose. Give him a friendly smile and then his stomach line. Finish off his tail and then detail his boots.
Step 5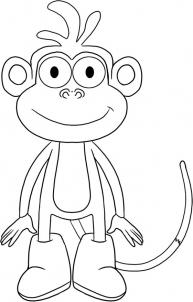 Your drawing will look like this when you are done. All you have to do now is color him in. I hope you liked this tutorial on how to draw Boots the monkey from Dora the Explorer step by step.

You will find incredible drawing tutorials for kids with step-by-step explanation how to create great drawings. All how to draw tutorials on HelloKids are provided by our partner, Dragoart.com. Pets, Pokémon, fantstic beast and dragons, be sure you will find something to draw on Hellokids!