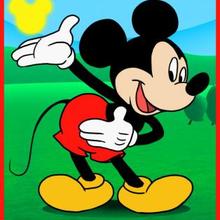 Now that I have shown you how to draw Darth Maul, let's move onto something more cheerful shall we? For my next tutorial I will show you "how to draw Mickey Mouse step by step". Now I know almost all of us are familiar with this lovable talking mouse character from Disney. One of the most popular things about Mickey Mouse was his voice and his ears. His ears were so well known that hats were made in his name. The Mickey Mouse hat was all black and covered the whole top of the head down to the middle of the forehead with a set of perfectly round ears. Mickey made his first television debut appearance back in 1928. He stared in the episode called œPlane Crazy. For nearly twenty years it was the voice talents of Walt Disney himself that gave Mickey Mouse life through his voice. After that it was Jim MacDonald, and then Wayne Allwine. Mickey Mouse was often seen with his pet dog Pluto and sometimes he was visited or visited his girlfriend Minnie Mouse. The two had a really cool relationship because Mickey was somewhat smarter than Minnie and because Minnie was also at times pretty demanding. After the success of Mickey Mouse's character the Disney TV show called œThe Mickey Mouse Club was formed. It was considered to be a children's show and it made its first debut back in the mid fifties. If you look back on some old footage of episodes, Mickey is seen wearing no gloves at all just bare black hands. When I first started watching some of the series, cartoons and shows that stared Mickey, I instantly fell in love with a character that would be timeless to me. This tutorial will show you how to draw Mickey Mouse step by step. All the steps are simple to understand and follow as well as the instructions. I hope you have fun drawing America's favorite cartoon mouse. I will return in a while with other lessons for you all to learn from so stay tuned or you can visit Mickey and his friends and have some colorful fun there while you wait by clicking here. Peace out guys and have fun!....
Step 1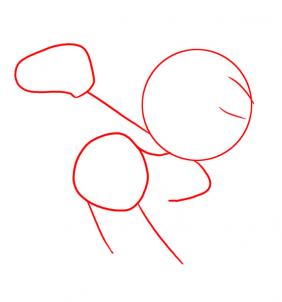 Okay start this first step by drawing out the guidelines and shapes for this famous mouse. Start with a circle and then add two dash like lines for his face. Once that is done add the body lines of position and then a smaller circle shape for his bottom section. You will then add another shape for his left hand and then the remaining limb guidelines.
Step 2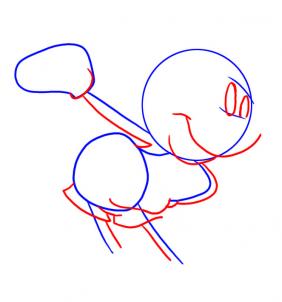 What do you think, pretty easy right? Okay what you will do next is start drawing out the famous face of Mickey Mouse as seen here. Draw two oval shapes eyes, and then the shape of his mouth/snout line. You will then draw another arched line for the bottom of his mouth as well as thicken the shapes of his arms and legs. Add some shape or leg sleeves to show that he is wearing shorts and then add some lines for his gloves.
Step 3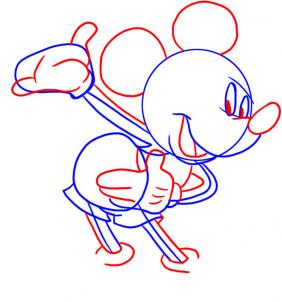 Well you have reached step three now and so far I bet you are doing great! What you will do here is draw two circle shapes for his ears and then give his eyes some pupils. Draw an olive shaped nose and then define his mouth as shown. You will then thicken his arms again and add more shape top his legs. Draw out the shoe shape around his ankles and then draw out the gloves and put those three dash like lines.
Step 4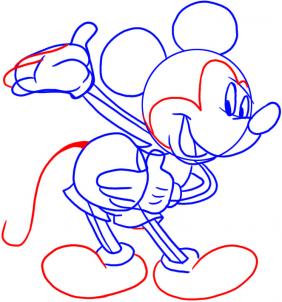 This is your last drawing step and you are still going strong. You will draw out the facial marking lines and finish his hand. Add the lining for the tail and then finish off his feet. Erase all the guidelines that you drew in step one and proceed onto the next step.
Step 5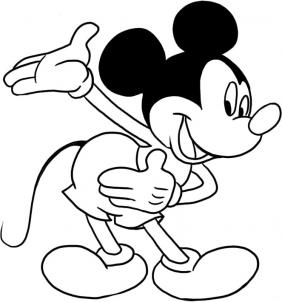 Once you are done with this Disney character you should end up with something like this. All you have to do is color him in and you have just finished this lesson on how to draw Mickey Mouse step by step.

You will find incredible drawing tutorials for kids with step-by-step explanation how to create great drawings. All how to draw tutorials on HelloKids are provided by our partner, Dragoart.com. Pets, Pokémon, fantstic beast and dragons, be sure you will find something to draw on Hellokids!