How to Draw Nemo from Finding Nemo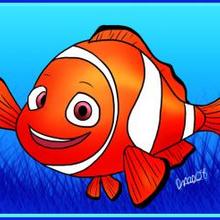 I hope you all liked my first lesson that I submitted today on how to draw a dragonfly step by step. This next tutorial is going to be very cool because it is on a character that I absolutely find adorable. Right now I will show you how to draw Nemo the Fish from Finding Nemo step by step. Nemo is a ridiculously cute clown fish that wants to be able to live like any other kid fish his age. There is one problem though, his father is overprotective of his son and therefore micro manages his life so that no harm will come to him. You see, Nemo lost his mother and siblings when he was just an egg. She lost her life to a predator that feeds on the smaller fish of the ocean. The only egg left was Nemo. Now because Nemo was born with a defect (one swimming fin was formed smaller than the other), his father treats him like a forever young child. Nemo wants to go out and explore, play with other fish, and go on adventures to see and find new exciting things. I had a wicked fun time drawing out this animated character from Disney Pixar. He is wicked easy to accomplish because all you will be doing is drawing out a simple fish that most young children can do. I would like to is that what made this movie so good was, the voice talents and the action sequences. Nemo was voiced by Alexander Gould, his father Marlin is voiced by Albert Brooks, Dory the dim witted regal tang fish was voiced by the very funny Ellen DeGeneres, and the comic talent of those three sharks that Merlin and Dory were always trying to avoid. I wanted to draw Nemo because no matter how old the movie may be, his character will always remain bright, funny, caring and sweet. I will show you how easy it is to learn how to draw Nemo from Finding Nemo step by step. I hope you all have fun with this one, I know I did.....
Step 1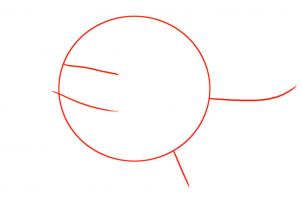 Okay even though there is six steps in this tutorial, each one is very simple. All you have to do here in this first step is draw out a circle for his face and body. Then you will add the facial guidelines along with the two fin and tail guidelines.
Step 2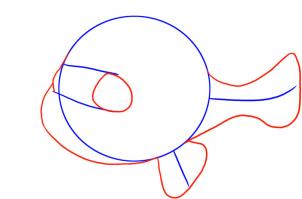 Now as you can see this step is just as easy as the first. What you will do next is draw out the shape of Nemo's face frame in the front. Once that is done you can then draw out two eye shapes and then the outlining shape of his swimming fin, and body shape for his tail as seen here.
Step 3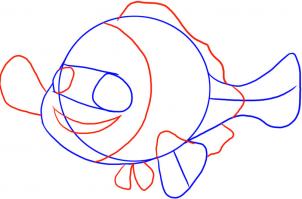 Wow Nemo is coming along nicely huh? Anyways start this third step by drawing out the lines for his strips, and then draw out the shape of his dorsal like fin. You will finish drawing out his left eyes and then give him a great big smile. Add two smaller fins on the side of his defective one and the add the shape of his left fin.
Step 4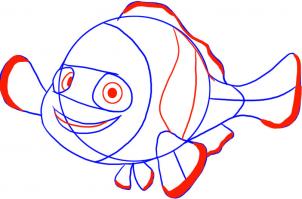 Well this is step four and as you can see there is nothing hard to draw out here. All you will have to do first is add some solid color to the tips of all of Nemo's fins as seen here. Next finish drawing out his clown fish strips and then give him some eyeballs. You will also give him a line for his front teeth.
Step 5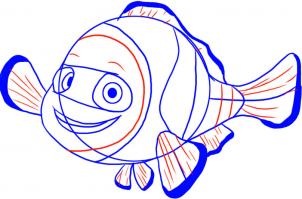 This is your last drawing step and as you can see this may be the hardest of all the steps. All you have to do is detail the rest of Nemo's body and you can do that by adding lightly drawing out lines that look like dashes on the fins. Once that is complete you can add the remaining strips on his body.
Step 6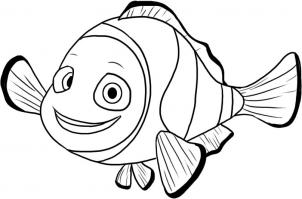 And once you are finally done your Disney character should come out looking like the one you see here. All you have to do now is color him in to made Nemo look like a real clown fish. I hope you liked this tutorial on how to draw Nemo from Finding Nemo step by step.

You will find incredible drawing tutorials for kids with step-by-step explanation how to create great drawings. All how to draw tutorials on HelloKids are provided by our partner, Dragoart.com. Pets, Pokémon, fantstic beast and dragons, be sure you will find something to draw on Hellokids!