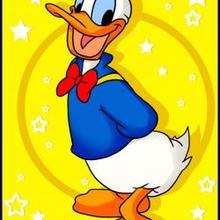 Well, I have yet to submit two more lessons after this description for my third tutorial is written out. I figured that I would try and shoot for five tutorials a day again just because I know that it is exciting for all the members that visit DragoArt to see some new lessons when they sign in every time they visit. I mean, who wants to come to a site everyday and see nothing new? I know I wouldn't. Anyways, this next lesson is being drawn out of request by a member. I was asked if I could do a tutorial on how to draw Donald Duck step by step. Donald as you know is a very important and popular character from the Disney Company. He is best friends with Mickey and Goofy and his love interest is Daisy Duck, although sometimes Daisy acts like she wants nothing to do with Donald just so she can watch him beg and chase after her. Donald has a very unclear speech making it very difficult to understand what he is saying. He is a very kind soul and can sometimes be very gullible and misguided. Don't get me wrong, Donald also has a mean streak to him as well. Sometimes there are episodes where his temper explodes leaving him with a red face and devil like horns. When I was a kid growing up Mickey Mouse, Donald Duck, Goofy, and Pluto were four of my favorite characters. I used to love the episodes when Donald and Goofy were together because it was like putting Dumb and Dumber in the same room to watch them mess up in every way possible. I think that Walt Disney did a fabulous job with the creation and animation of Donald especially over year's time. This tutorial will show you how to draw Donald Duck step by step with simple to read instructions and easy to follow steps. Once you are done, you will be able to draw this Disney character with ease with just the touch of a pencil. I will be back yet again with two more lessons on the way so stay tuned folks for my return!....
Step 1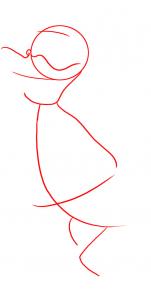 As you can see you will start this step like every first step I submit on DragoArt. You will draw out the guidelines and shapes until you have a frame for Donald to work with. Start with a circle for the head and then draw out the lining of his duck bill. Next draw out the shape of his torso or body and then add the two arched lines for his bended legs.
Step 2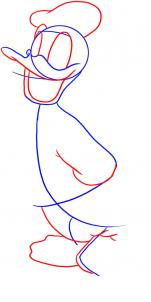 Now in this next second step you will start it by sketching out the shape of Donald's sailor hat and then draw the arched looking shapes for his eyes. Finish off the shape and lining for his bill and then draw out his arm. You will then add the lower stomach line and then the lining for his feet or foot.
Step 3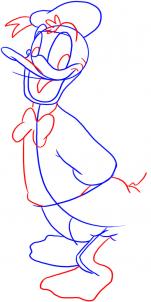 You are on your third step and that means you are one step away from completion. You will start by finishing off Donald's sailor hat with a ribbon, and then add his fluffy feathers. Draw an arch line for his eyebrow and then add his eyeballs. What is the one thing about Donald's mouth that is so noticeable? Yes, his triangle like tongue, so that is what you will add next. Give him a bow and then finish off his sailor coat. End this step by drawing out the shape of his behind and right foot and leg.
Step 4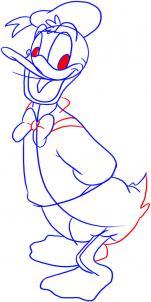 Your last drawing step is now here and as you can see there is very little to do. All you will need to do is first color in his eyeballs and then draw out the collar and shoulder sleeve, Add a knot in the middle of the bow and then finish off his butt with a tail and then the rest of his legs and feet. Erase all the guidelines and shapes and then move to the final product.
Step 5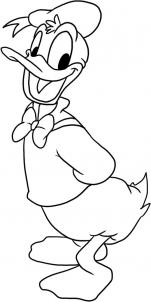 Once you are done your Disney character should come out looking like the one you see here. All you have to do is color him in and you are done. I hope you liked learning how to draw Donald Duck step by step. I look forward to drawing more Disney characters in the future.

You will find incredible drawing tutorials for kids with step-by-step explanation how to create great drawings. All how to draw tutorials on HelloKids are provided by our partner, Dragoart.com. Pets, Pokémon, fantstic beast and dragons, be sure you will find something to draw on Hellokids!