How to Draw Pucca and Garu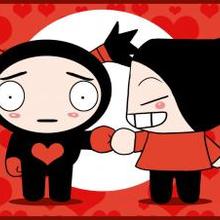 I love when I find new and interesting characters that I have never heard of by a random search. I am of course talking about a character named Pucca. Pucca is a character that airs on Disney's JETIX TV channel and I only watched a few episodes so I really can't tell you too much about her. What I can tell you is that she has a love interest named Garu and he is a ninja that loves Pucca too. Pucca is an eleven year old girl that communicates by making giggling, kissing, and growling sounds especially when she is near Garu. Unlike some animated characters on TV today, Pucca lives with her guardians who are three Master Chefs at the Goh-Rong restaurant. Their names are Uncle Dumpling, Ho and Linguini and they are masters at making jajangmyeon and they do it as a team. Linguini is the one that is charge of making and twisting the noodles, Ho is in charge of heating up the dishes with his hands, and Uncle Dumpling chops up the vegetables for the noodles. Pucca is a very entertaining animated series and I am really turning into a fan of the show. This tutorial will show you how to draw Pucca and Garu step by step. I know that this will be fun for you all because it is a very easy lesson to follow and understand. I will be back in a bit with more drawing fun so stay tuned gang.....
Step 1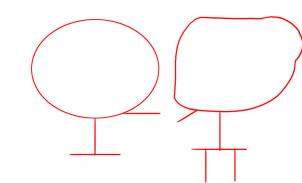 As you can see this is going to be a very simple and fun lesson to draw. What you will have to do in this step is draw out two circle shapes with the one on the right be a bit odd. Next add the lines for the stick like bodies.
Step 2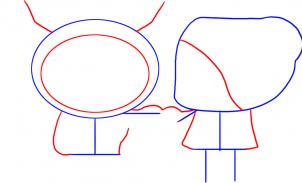 You will now start drawing and add the thickness of their bodies as you see here. And when you do this try and remember that these characters are square in shape. You will then add two lines on Garu's head and then add an inner circle for Garu and Pucca.
Step 3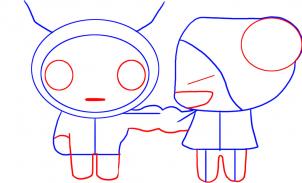 Draw the circles for Garu's eyes and then the mouth for Pucca which is open and excited looking. You will then add a line for Garu's mouth. Once that is complete you will draw the shape of the legs and then the arms. Giver her a side bun shape for her hair and then a slanted eye line.
Step 4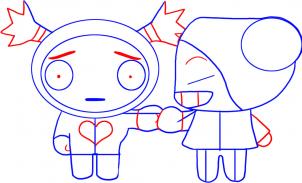 As you can see you are now on your last drawing step and what you will do here is draw out the spiky looking pony-tails for Garu's hair and then give him a set of eyebrows. You will add dots for pupils and the a heart in the middle of his shirt. Give these two love birds some hands and add lines for her teeth. You will now start erasing all the guidelines and shapes that you drew in step one.
Step 5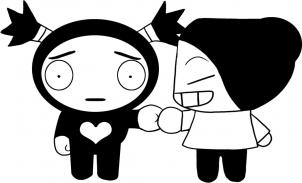 Once you are done your cute characters should come out looking like the ones you see here. All you have to do now is color them in and you will be all done with this lesson on how to draw Pucca and Garu step by step.

You will find incredible drawing tutorials for kids with step-by-step explanation how to create great drawings. All how to draw tutorials on HelloKids are provided by our partner, Dragoart.com. Pets, Pokémon, fantstic beast and dragons, be sure you will find something to draw on Hellokids!