How to Draw Sandy Cheeks from SpongeBob SquarePants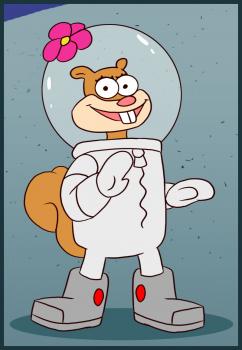 Everyone loves the classic cartoon SpongeBob SquarePants right? Well if you have visited the Nickelodeon section in the cartoon category you will notice I have submitted lessons on almost all the popular characters from the animated series. There is of course one character that is missing that should have been drawn out a while ago but I never got around to it. So now that I have finally got around to drawing out this character that we have all come to recognize and love, I think that you will be happy to know that I will be showing you "how to draw Sandy" Cheeks from SpongeBob SquarePants, step by step. Now this he-haw girl is a squirrel that comes from the great state of Texas (as she would put it). She came to the underwater dwelling of Bikini Bottom because she works for an agency that requires her to experiment under the sea as she creates unique inventions. Although sandy is not a sea creature like her friends SpongeBob, Patrick, Mr. Krabs, and Squidward, she is able to walk around the small town with her underwater suit that resembles the attire for an astronaut. When she is not out and about, she resides inside of her huge treedome that was specially built to keep all water out and it is strategically located so that the sun from above the sea reflects into her hand made habitat. She walks around in a purple bikini and she is often visited by both SpongeBob and Patrick. I had a lot of fun doing this drawing because it reminded me how much I truly enjoy watching the show. I hope you will also have a blast learning "how to draw Sandy" Cheeks from SpongeBob SquarePants, step by step. I have a few more lessons to upload so stay tuned in to see what they are.....
Step 1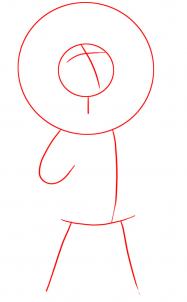 You will start this first step by drawing out one big round shape for her water tight helmet and then draw out the circle shape for her head and add the facial guidelines. Next draw out her body lines of position and then shape out the arm a bit. Once you are done you will move to the next step
Step 2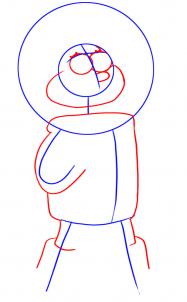 For your second step you will start by drawing out the shape of the lower part of Sandy's face which is her cheeks as well. Once that is done draw two small circles for her eyes and then add some lashes. Next draw out the outline of her uniform that keeps her dry. Start drawing out the shapes of her legs as well.
Step 3
Now you will draw out the three pedals for Sandy's flower that permanently rests on the left side of her helmet. Next, draw out her ears and then dot the eyes. You will add a smile line and then finish drawing out the arms and hands as you see here. After that add the zipper line as well as the tab for the zipper. You will draw the line for the inner part of her legs and boots.
Step 4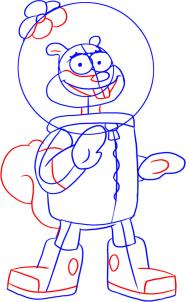 Now that you have reached your last drawing step you will draw out the rest of her flower pedals first and then the rest of the lining for her face, nose and mouth. Add her buck teeth and then draw out her squirrel tail. Detail her arms and then add a thumb to the right hand. Finish off her space like boots and then start erasing all the guidelines and shapes that you drew in step one.
Step 5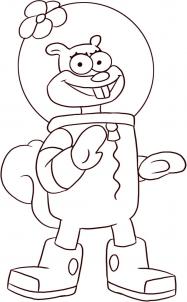 Once you are done you should end up with finished line art like you see here. All you have to do now is color her in and you are done. I hope you enjoyed this lesson on how to draw Sandy Cheeks from SpongeBob SquarePants step by step.

You will find incredible drawing tutorials for kids with step-by-step explanation how to create great drawings. All how to draw tutorials on HelloKids are provided by our partner, Dragoart.com. Pets, Pokémon, fantstic beast and dragons, be sure you will find something to draw on Hellokids!