How to Draw Backpack from Dora the Explorer
This next character is going to be fun because it is an accessory that a little Latino girl wears to aid her in the adventurous journeys she makes with her pal Boots. I am going to show you how to draw Backpack from Dora the Explorer step by step. There really isn't too much to say about Dora's accessory and friend except Backpack keeps all of Dora's traveling items tucked away inside of his zippered self. The best part of when Dora wants something in her backpack is when the music which starts off likes; œbackpack, backpack, backpack, backpack. I'm the Backpack Loaded up with things and nick nacs too, anything that you might need I got inside for you. Backpack, backpack, backpack, backpack YEAH! That song is so addictive along with the map song. But I will not be sharing the lyrics to that song because this lesson is not on how to draw the map from Dora. Anyways, this is a really simple tutorial to learn from, all you have to do is follow the easy to follow steps and simple to read instructions that I have laid out for you with ease. When you are done you will have learned how to draw Backpack from Dora the Explorer step by step.....
Step 1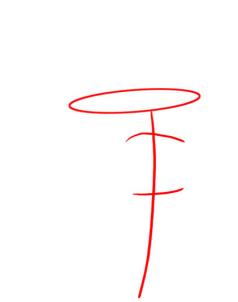 Okay are you ready or what? Start with a skinny oval shape for the top of Backpacks design. Next draw a vertical line down the middle and then add the facial guidelines.
Step 2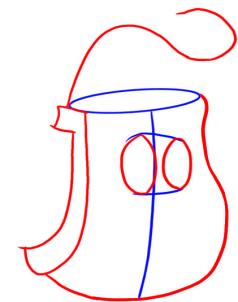 You will now start drawing out the shape of Backpack's design as you see here and then add the line for the closing lid. Next use the guidelines to draw the eyes in portion and to also drawing them out nice and straight.
Step 3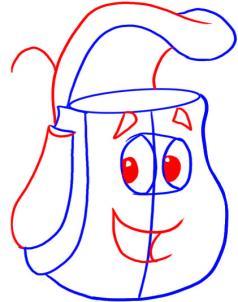 Now all you have to do here is draw out the rest of backpacks lining and then draw the triangle like shapes for the eyebrows. Add circles for the eyeballs and make sure you leave a hint of white behind. Next, draw out the lining for the open smile mouth.
Step 4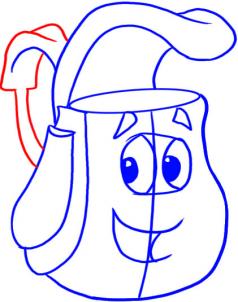 Well you are virtually all done and all that is left to do is draw out the shape and line of strap in the back. Erase the guidelines you drew in step one and then move along to the last and final step.
Step 5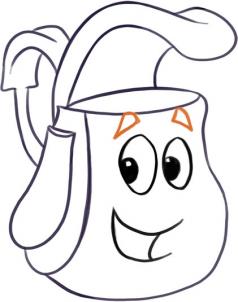 This is what your character from Dora should end up looking like when you are done. All you have to do is grab a purple crayon, marker or colored pencil and start coloring in backpack. I hope you had a blast learning how to draw Backpack from Dora the Explorer step by step.

You will find incredible drawing tutorials for kids with step-by-step explanation how to create great drawings. All how to draw tutorials on HelloKids are provided by our partner, Dragoart.com. Pets, Pokémon, fantstic beast and dragons, be sure you will find something to draw on Hellokids!