How to Draw Baby Jaguar from Go Diego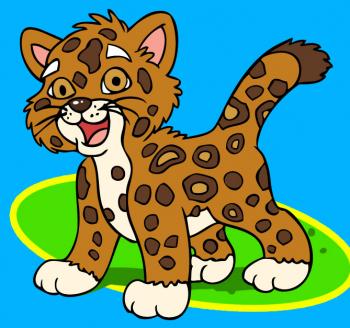 Well I'm sorry to say but I lied when I said that I only had one more cartoon animal drawing to submit. I am about to show you œhow to draw a cartoon jaguar but this is not just any jaguar. His name is Baby Jaguar and he is from the Nick Jr. show Go Diego. He is one of Diego's animal friends and he is so cute. I wanted this lesson to be even simpler so I drew baby jaguar incredibly easy. The art took me about three hours total which includes sketching, drawing, coloring, and finally the tutorial layout and creation. I think that this cartoon jaguar came out so cute. My little sister loves the way he came out as well so that makes me feel good too. She is such a big fan of Dora and Diego, so it pleases me to see her smile when she sees a drawing on one of her favorite characters. My sister and my brother are probably two of my best critics along with my parents and of course my fellow DragoArt members. I count on all of you to let me know how I am doing, what you think I need to change, and it is very important that you guys rate all the tutorials on the site including mine. This lets other artists, as well as myself know how we are doing, and it also conveys the message that œyou should look at this tutorialœ. Anyways I promise this is the last cartoon animal tutorial for the day, which means I'm not saying that there will never be anymore lessons on cartoon animals or other cartoon objects or characters for that matter. Have fun with this tutorial on œhow to draw a cartoon jaguar step by step. I will be back as you all know so peace out peeps and keep on drawing.....
Step 1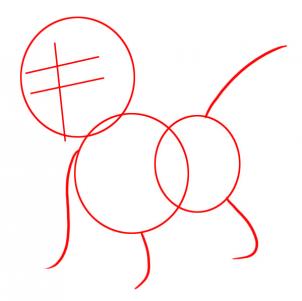 Draw a circle for the cartoon jaguars head and then add the facial guidelines. Next draw the circle shape for the torso and then the butt end. Add the legs and tail guidelines, then move to step two.
Step 2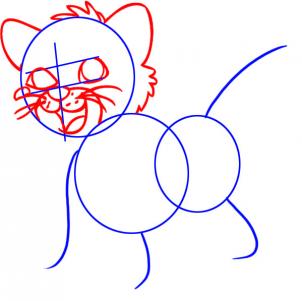 Start drawing out the shapes of Baby Jaguars ears and then the shape and style of the head which includes a bunch of baby like hair. Use the facial guidelines to draw in the shapes of the eyes and then draw the snout, nose, whiskers, and lastly the mouth.
Step 3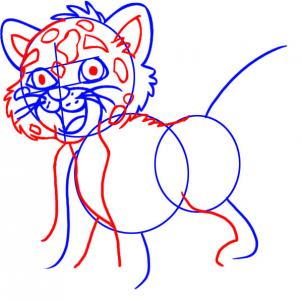 Finish sketching out the shape of the face and then begin drawing in the spots. Next draw both the front and back legs and then sketch in some fluffy hair on the back.
Step 4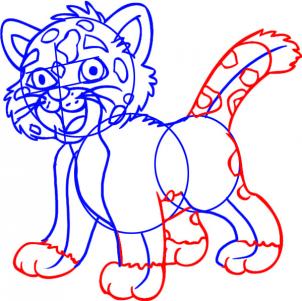 You will finish off Baby Jaguar's body in this step and as you can see it is going to be incredibly easy. Don't forget to draw the cute paws and then the tail. Begin adding the spots and then move to the last step.
Step 5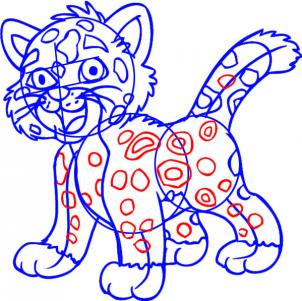 For your final step you will just need to draw in all the spots and then erase all the gudielines and shapes that you drew in step one.
Step 6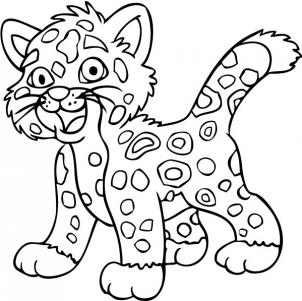 When you are done your Diego character should come out looking cute like this one. I hope you guys liked this lesson on "How to Draw Baby Jaguar from Go Diego step by step".

You will find incredible drawing tutorials for kids with step-by-step explanation how to create great drawings. All how to draw tutorials on HelloKids are provided by our partner, Dragoart.com. Pets, Pokémon, fantstic beast and dragons, be sure you will find something to draw on Hellokids!