How to Draw a Chibi Cupcake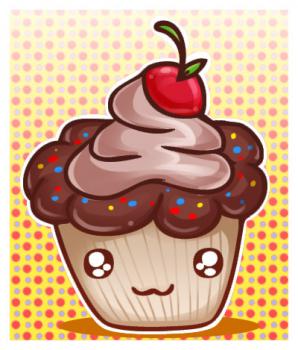 I guess you all are really liking the piece of cake that I submitted because there is already a comment on it. This next lessons is going to be on another tasty treat that everybody loves eating once in a while. Are you guys ready for this tutorial on œhow to draw a chibi cupcake step by step? well I hope so because that is what this lesson is on. Cupcakes come in either chocolate or vanilla and the frosting can either be chocolate, vanilla, pink, blue, yellow, orange, and every other color in the rainbow. This chibi cupcake is absolutely delicious in every way and it is also topped with a maraschino cherry, which are the best cherries on the face of the earth. I mean regular cherries are awesome too, but the maraschino cherries are the best. Anyways this is a good lesson for children and older kids that love drawing chibi characters or who love drawing cute pieces of food. I have to go because there is a lot more lessons coming your way. Have fun with this submission on œhow to draw a chibi cupcake step by step. Peace out amigos and happy drawing!....
Step 1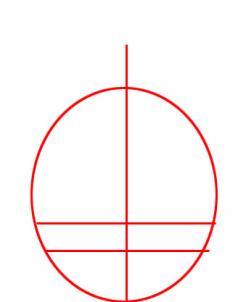 Draw a circle shape that is a bot oblong. Next draw one vertical line and then two horizontal lines as you see here.
Step 2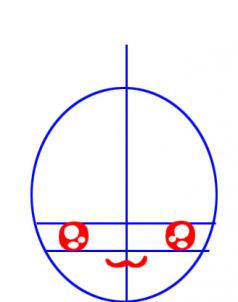 In this step you will draw the cute chibi eyes using the facial guidelines you drew in step one. Color them in a bot and then draw the mouth which looks like a wide "W".
Step 3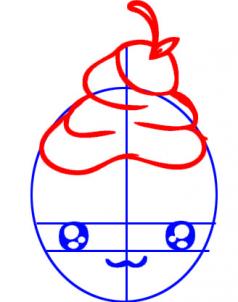 You will now draw the frosty swirl on the top of the circle you drew and then add the cherry stem, leaf and all.
Step 4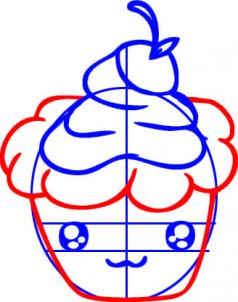 For your last drawing step you will draw out the shape of the chibi cupcake's base and then the cake topping as you see here. Erase all the guidelines and shapes that you drew in step one.
Step 5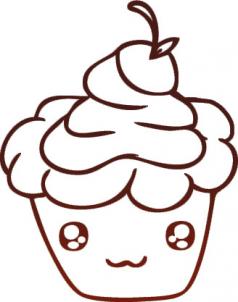 Here is what your treat should come out looking like when you are done. The fun part to this lesson is coloring in your finished work. I hope you guys enjoyed this cute tutorial on "how to draw a chibi cupcake step by step".

You will find incredible drawing tutorials for kids with step-by-step explanation how to create great drawings. All how to draw tutorials on HelloKids are provided by our partner, Dragoart.com. Pets, Pokémon, fantstic beast and dragons, be sure you will find something to draw on Hellokids!