How to Draw Chum Chum from Fanboy and Chum Chum
There is a new cartoon coming out on Nickelodeon that looks really good. I was watching TV the other day and a preview came on for the new series that will be airing on November 7th at 10:30am. Now because I think that this show will be a big hit, I decided to do two tutorials on the main characters of the show. So for my second lesson I will show you œhow to draw Chum Chum. Now since this is a new cartoon series there is hardly any information that I can give you about the characters of the show. I can tell you what I have read about each individual character of the animated cartoon just to give you an idea what to expect when the series is finally released. Chum Chum is a short and stocky kid that is the best friend of Fanboy. Chum Chum has no super powers at all, but still they try and act like heroes to the maximum extent. A good way to describe what Chum Chum looks like is, he is short, chubby, and wears a super hero suit at all times. There is a total of six other characters that make up the show and all of them are pretty cool. When the show has aired on Nickelodeon for a while, I can provide more detailed information about the character you will be drawing today. In the mean time, tackle this tutorial on œhow to draw Chum Chum", step by step. I think you will find that this lesson is easy to follow, and simple to replicate. Adios amigos, have fun and happy drawing.....
Step 1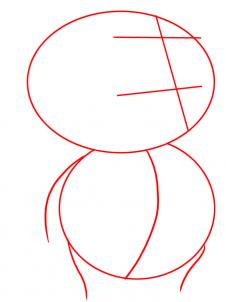 Drawing Chum Chum is going to be very easy because he is just a rolly polly. Start off with two medium sized circle shapes and then add the facial guidelines. Next draw a vertical line in the middle of the torso shape and then add the arm and leg guidelines.
Step 2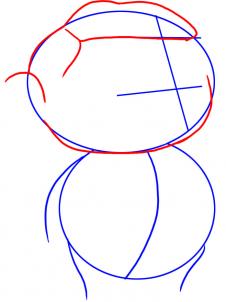 In this second step you will start sketching out Chum Chum's hair style which is neatly parted off to the side. Once the beginning lines are drawn in for his hair you will start sketching out the shape of his face and left ear.
Step 3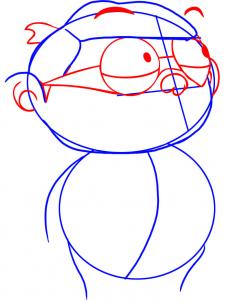 Finish sketching out his hair style and then draw in more of his ear shape as you see here. Next draw out and color in his eyebrows, and then draw the shapes of his eyes using the facial guidelines you drew in step one. Add some pupils and then draw in the shape of his eye mask and nose.
Step 4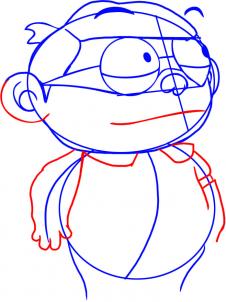 Here you will finish the shape of his ear and then draw in the mouth line. Next start drawing out the left arm and then the fingers and or hands. Lastly draw the lips of the collar as you see under his face.
Step 5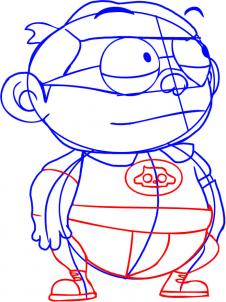 You will finish off this tutorial by drawing the shirt and sleeves, and then draw the pant lines around the wait and add some detailing as well. He looks like he is wearing a diaper of some sorts so that is what you are going for. Lastly draw the shape of his legs and draw the feet and sneakers. Erase all the guidelines and shapes that you drew in step one.
Step 6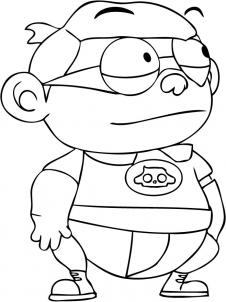 When you are done with this tutorial on "how to draw Chum Chum", you should end up with a drawing that looks like the one you see here. Color him in and you have just finished this tutorial. Great job!

You will find incredible drawing tutorials for kids with step-by-step explanation how to create great drawings. All how to draw tutorials on HelloKids are provided by our partner, Dragoart.com. Pets, Pokémon, fantstic beast and dragons, be sure you will find something to draw on Hellokids!