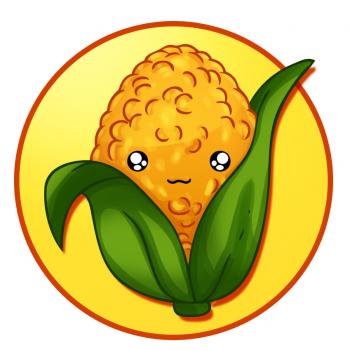 I am back boys and girls with a very cute and delicious lesson that will surly leave your mouth watering and your hearts warm. I was going through some of my tutorials on all the different types of food that I drew chibi style. I came to realize that I didn't have too many vegetables drawn. So what I will be doing today is showing you "how to draw corn step by step". Drawing food is fun because I can make any morsel look appealing. I often find myself looking at one of the food tutorials, and thinking that, if food really did look that cute, everyone in the world would be starving. Corn is by far one of my favorite foods during the spring and summer months. Going to a farmers market, or a vegetable stand on the side of the road is usually the best place to buy fresh corn cobs. I mean, you can buy corn out of the grocery store, but if you do that, you really don't know how fresh your produce is. I can remember my mom bringing home a bundle of corn from the store and every time she peeled the corn husks off, there would be no corn kernels at the tip of the cob. The corn didn't even taste good half the time. Fresh corn is great and nibbling on the cob is even better. There is so many different ways to cook corn, which makes this food a versatile produce that can taste different each time you eat it. I personally like eating corn off the grill, and from a hot boiling pan. I know for a fact that once you are done learning "how to draw corn", your mouth will be watering for a cob of your own. I will be back later with more drawing fun in the mean time, cure your hunger, and draw some corn for later!....
Step 1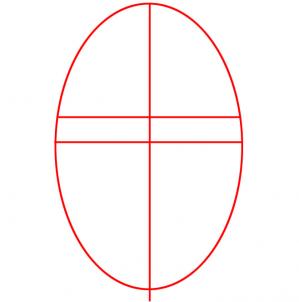 This is going to be a very easy tutorial so get ready to finish it in ten minutes. First draw a large egg shape as you see here. Next draw a straight vertical line down the middle of your corn shape and then draw the facial guidelines.
Step 2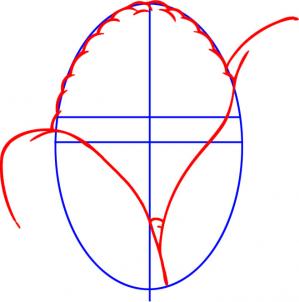 You will now sketch out the corn kernel shapes as you see here which is nothing more than bumps for the lining of your cob. Once that is done draw the flaps for your corn husks and add a bit of detail.
Step 3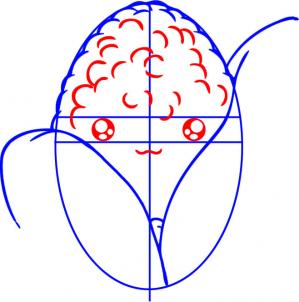 To make this cob look more like corn, you will sketch in some bumpy humps to show that this is in fact a piece of corn. Once that is done use the facial guidelines to draw in the cute chibi eyes, and then the chibi mouth.
Step 4
You have reached your last drawing step and to finish off this lesson on "how to draw corn", you will need to sketch out the rest of the corn husk shapes as you see here. Add some detailing to show the texture of the husks, and then add a few more kernel pieces. Erase all the guidelines and shapes that you drew in step one to clean up your cute drawing.
Step 5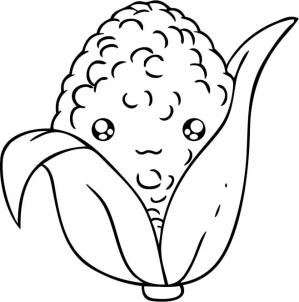 Now that you are done learning how to draw corn, you can color in your art, and hang it on your wall and or fridge. Don't stare at it too long or you will be forced to eat your paper.

You will find incredible drawing tutorials for kids with step-by-step explanation how to create great drawings. All how to draw tutorials on HelloKids are provided by our partner, Dragoart.com. Pets, Pokémon, fantstic beast and dragons, be sure you will find something to draw on Hellokids!