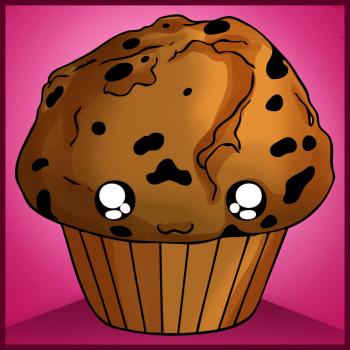 Hi all, how is everybody doing tonight on this fine Saturday evening in some places and morning or afternoon in other parts of the world? I will start the day by showing you "how to draw a muffin" step by step. Since I have a new food section under the pop culture category, I will be drawing more and more cute food products. I chose to draw a muffin because almost everyone loves eating muffins especially muffin tops. My favorite muffin changes on a monthly basis and this month it happens to be pumpkin. Occasionally my muffin taste will change to corn, and bran raisin. The muffin that you will be drawing is bran raisin, but you can draw your favorite flavor if you wish to customize the muffin of your choice. I promise I won't clutter the site with a bunch of food tutorials unless they are cute and tolerable to look at. I will tell you that this muffin is not the only food that I will be submitting today. There is still one more lesson that falls in the food section that you will get taught on. But don't worry I'm sure you will like what you see. Well, I guess that is all I have to say about the muffin. It is now your turn to stop what your doing, and start this tutorial on "how to draw a muffin step by step". I will meet you guys back here soon with more drawing fun so try and stay tuned in. Peace out and happy drawing and eating!....
Step 1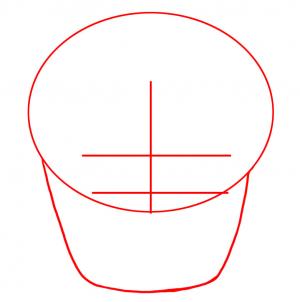 Drawing a muffin is going to be so fun and so easy. All you have to do is draw a big round circle and then add the facial guidelines. Next draw the bottom of the muffin that is wrapped in a paper pastry cup.
Step 2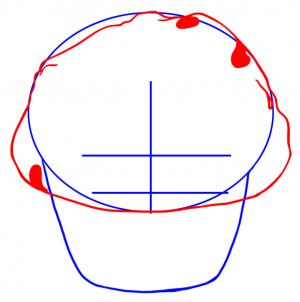 What you will do here is sketch out the shape of the muffin top as you see here and as you know muffin tops are not usually perfect in shape or size. Once that is done draw the imperfections on the cake and then add the spots for the raisins if you are drawing a bran muffin.
Step 3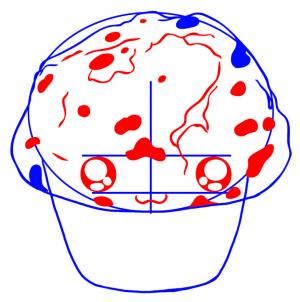 You are almost done with this tutorial on how to draw a muffin. Continue to sketch in the raisins and or chocolate chips, and then sketch in more imperfections on the muffin top. Draw two small chibi like eyes and then a cute smile.
Step 4
This is your last drawing step and all you need to do is draw the shape of the muffin bottom and add the lines for the cupcake cup. Erase all the guidelines and shapes that you drew in step one.
Step 5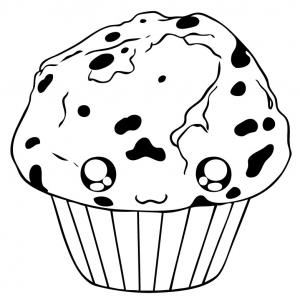 Once you are done your muffin should come out looking like the one you see here. Color it in and you have just learned "how to draw a muffin step by step".

You will find incredible drawing tutorials for kids with step-by-step explanation how to create great drawings. All how to draw tutorials on HelloKids are provided by our partner, Dragoart.com. Pets, Pokémon, fantstic beast and dragons, be sure you will find something to draw on Hellokids!