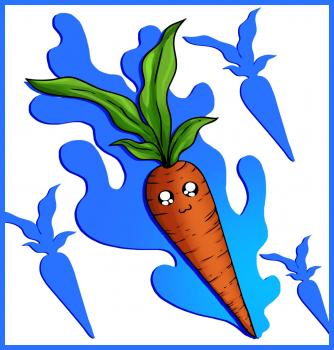 Remember when I said that I had another tutorial on something food related? Well I figured I would get the food off the plate now, and start this second lesson by showing you "how to draw a carrot step by step". Carrots are great foods that are rich in b-carotene which then turns into vitamin A in humans. How do carrots get their bright orange color? That rich color comes from b-carotene. Not only does the carrot offer great access to vitamin A, it is also a great way to get full daily servings of fiber, antioxidants, and certain minerals. There is a wide variety of carrots that can be grown and become readily available. Carrots are root vegetables, and they also come in different colors like, purple, red, white, yellow, and of course orange. When you sauté carrots, celery, and onions together it makes an awesome substance to mix with soups, stuffing, and other great meals that add a special zing to the flavor of a dish. My grandmother used to say that if you eat enough carrots your eye sight will improve. Now I don't know about all that, but I do know that vitamin A is a good way to keep your sight healthy because lack of vitamin A can cause poor vision. I think you will agree when I say that learning "how to draw a carrot" is more fun than anyone can imagine. Have fun with this lesson, and remember drawing food is a great way to learn about what you put in your body. I will be back later so keep hanging around the site, you never know what tutorial will pop up next. Peace peeps!....
Step 1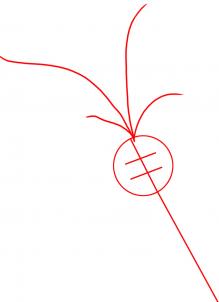 Drawing a carrot is a fun way to have some good fun. Start with a circle for the top shape of your veggie, and then add some sprouting hair pieces that will be the leaves. Draw in some facial guidelines and then draw a vertical line for the shape of the carrots root.
Step 2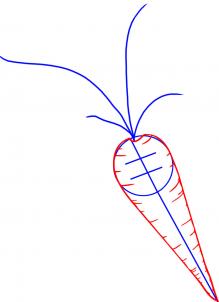 You will now start sketching out the carrot root as seen here. Once that is done you can add the grooved detailing lines that convey what this object or food is. A carrot is shapes like a spike.
Step 3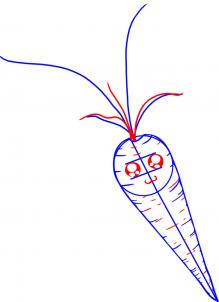 You are already almost done with this tutorial. All you need to do here is sketch in more detailing lines that define the carrot. Next draw in the cute chibi face which includes the eyes, and mouth. Start thickening the leaves of the carrot too before you leave this step.
Step 4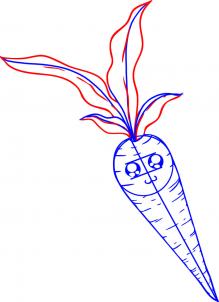 This is your last drawing step and all you have to do is sketch out the leaves like the ones you see here. Erase all the guidelines and shapes that you drew in step one to clean up your drawing.
Step 5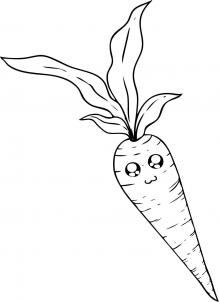 Here is how your drawing looks when you are done with this tutorial on "how to draw a carrot step by step". You all did a great job, and I hope you join me next time with another fun online drawing lesson.

You will find incredible drawing tutorials for kids with step-by-step explanation how to create great drawings. All how to draw tutorials on HelloKids are provided by our partner, Dragoart.com. Pets, Pokémon, fantstic beast and dragons, be sure you will find something to draw on Hellokids!