How to Draw Toph Bei Fong from Avatar The Last Airbender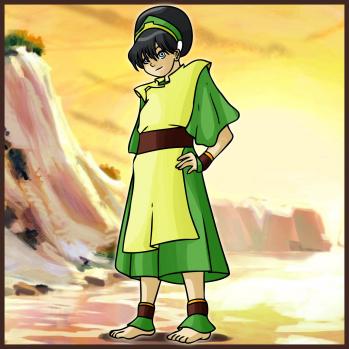 Hi all, welcome back to Dragoart and to another drawing lesson. I have three tutorials that I will submit in the next few hours. To start I will fill a request that was made a day or so ago. It is going to be on "how to draw Toph Bei Fong step by step". Even though I watch this series every now and again, I do not know too much about this character. There are so many characters in the Avatar animated series, that choosing which one to draw can sometimes be difficult. The reason why I like Toph is because she is a tough person, and she is somewhat mentally stable. I had a lot of fun drawing Toph. I can also honestly say that she was a wee bit difficult to draw because she looks nothing like any other character from Avatar:The Last Airbender. Toph is very skilled at Earthbending. She is what you call perfect at it which is another reason why she is awesome. The amazing thing about Toph and her mastering skills is that, she tries her best to be the best even though she is blind. That's right, I said blind. Toph Bei Fong has been blind since birth. Because of this, people looked down at her and thought she was some kind of handicapped innocent little girl. Boy did she prove those people wrong. She also taught herself œseismic sense with the help from her earth dwelling animal friends like the Bagermoles. This unique skill gives her sight through the vibrations in the ground, almost like the way Dare Devil sees even though he is blind. Over time she has earned the name œBlind Bandit, and that name totally fits her character. Anyways, I have a bunch of lessons going up today and I think that you guys will like this one that will teach you œhow to draw Toph from Avatar step by step. When you are done with this tutorial, be sure to color in Toph her pretty green colors that she wears, and her frosted colored eyes. Be back soon guys and happy drawing!....
Step 1
Okay, draw a circle for Toph's head and then add the facial guidelines. You will then draw the outlined shape for her hairstyle as you see here. Next draw the body's line of motion with just one of those lines being for one of her arms.
Step 2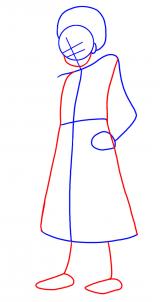 You will draw the actual shape of Toph's body in the shape of her dress that she wears. Next draw the leg lines, and the shapes for her feet. Also, before you leave you will also need to draw out the lower part of her face shape.
Step 3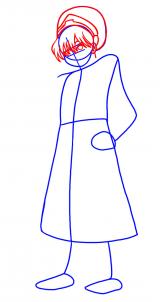 Step three is basically the sketching of her full bodied looking hairdo. Start by sketching out her bangs, and then draw the hair-band. Next draw out the actual shape of the back of her hair style and then you can begin sketching out her eyes.
Step 4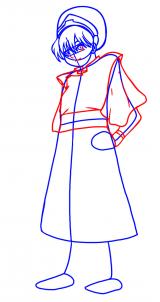 Finish sketching out her blind but kind eyes, and then add the shape of her nose, and mouth. When you are done doing that you can start sketching out the top half of her body which includes the torso, and arms. But before you sketch out her arms, you will need to draw the shape and style of her loose looking sleeves. Once completed you will also need to draw her belt, and then add the detailing and definition to her clothes to make them look a bit baggy. Lastly, draw a bracelet on her wrist.
Step 5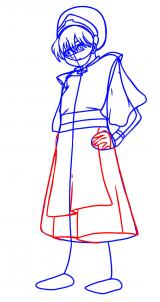 You will now sketch out the bottom half of her dress and then add the crease and fold lines. She has an apron like cloth on the front of her dress so be sure to draw that in as well. Next sketch out her hands and finger and then move to the last drawing step.
Step 6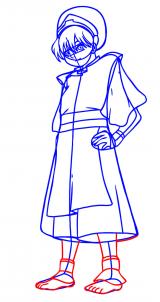 The only thing you have to do here is draw out the shape of her legs, ankles and feet. Once that is done draw the sock like ankle cuffs around her legs and then draw in her toes. I love the way she came out, and to prepare Toph for color you will need to start erasing all the guidelines and shapes that you drew in step one.
Step 7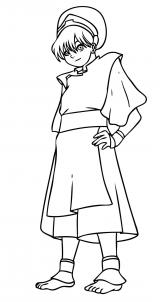 When you are done learning "how to draw Toph step by step", she should look like the one you see here. Color her in and you are all done with the days first drawing lesson. Great job guys, and join me next time for more drawing fun.

You will find incredible drawing tutorials for kids with step-by-step explanation how to create great drawings. All how to draw tutorials on HelloKids are provided by our partner, Dragoart.com. Pets, Pokémon, fantstic beast and dragons, be sure you will find something to draw on Hellokids!