How to Draw Helga from Hey Arnold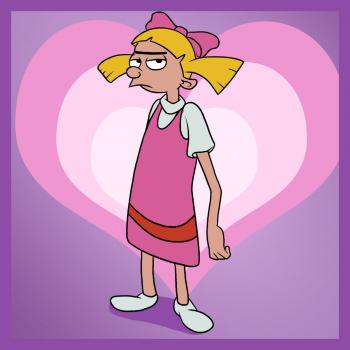 Xxmedicgirlxx did a tutorial on Arnold from the old show Hey Arnold! Now since she rekindled my memories of the show, I just had to draw two other characters so that our football head shaped friend doesn't feel alone. I will start the day by submitting this tutorial on œhow to draw Helga, step by step. Just her name alone describes her appearance and personality. She is one of the main characters in the animated show, and to be honest she sort of reminds me of my grandmother. The series ran for a whopping eight years since it's start back in 1996. Nickelodeon stopped airing Hey Arnold in 2004, but it will always be remembered as being one of the funniest cartoons created. Anyways, her full name is Helga G. Pataki, and she was considered to be a tomboy amongst other things. As with any cartoon series that has a boyish female, she was secretly in love with Arnold even though all she did was torture him, and make Arnold feel like crap. Helga would often play contact sports like football, baseball, or whatever other type of sports that boys liked to play. Her physical appearance suits her name. She always has a puss on her face, and she wears her blonde colored hair in a set of perky pigtails. Her bangs sit way above her black colored uni-brow, and even though she is a tough cookie, she wears a pink bow in her hair, and a pink one piece dress. Girls like Helga are very common. They appear to be hard shells on the exterior, but really, she is a sweet sensitive girl that cares about things too. I think you guys will love learning œhow to draw Helga Pataki, step by step. The instructions and steps are so simple to follow and read, making this tutorial awesome. I will be back in a minute with more drawing fun, and the second installment of another popular Hey Arnold character. Peace!....
Step 1
Start this first step by drawing the circle shape for Helga and then add the facial guidelines. You will then draw the triangular shape of her body outline, and then draw the bottom part of her body.
Step 2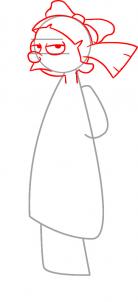 you will now use the facial guidelines to completely draw out Helga's face, and half of her hairdo. Don't forget to draw the that empty look in her eyes, and then add the pretty hair bow.
Step 3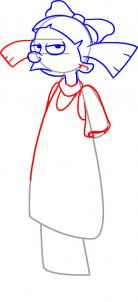 Helga wears very erect pigtails and they are sort of square. Draw out the other pigtail and then add some detailing to her ear. You will then start sketching out the shape of her neck, shirt collar, and then her sleeves, and top portion of her dress.
Step 4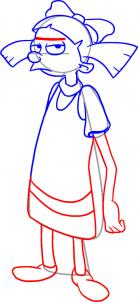 For your last drawing step all you have to do is draw out her long ape like arm and hand, and then finish drawing out her one piece dress. Next add the detailing strip on the bottom of her dress and then draw out her legs and shoes. Erase all the guidelines and shapes to clean up your drawing.
Step 5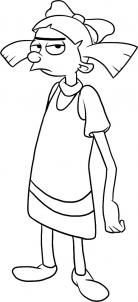 Here you have a finished drawing of Helga. I hope you guys had fun with this tutorial on this Hey Arnold character. Meet me back here again for more drawing fun.

You will find incredible drawing tutorials for kids with step-by-step explanation how to create great drawings. All how to draw tutorials on HelloKids are provided by our partner, Dragoart.com. Pets, Pokémon, fantstic beast and dragons, be sure you will find something to draw on Hellokids!