How to Draw Madagascar Penguins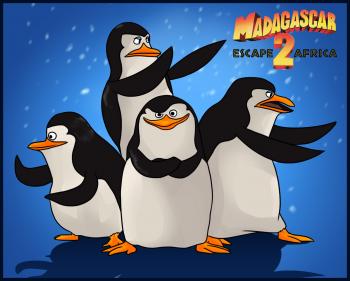 The Penguins of Madagascar are probably one of the more popular animals from the hit movie œMadagascar, as well as the series of the same name. I have to be honest, this tutorial is like six months old. The only reason why it is being uploaded is because someone re-requested these sly birds for a tutorial. As soon as I received the e-mail that asked about the penguins, I totally remembered that I had already did the lesson for this particular member. There is a total of four penguins in the group. Skipper is the leader of the gang and he is very serious and thorough when it comes to getting things done no matter how the results may turn out. According to Skipper, everything is a conspiracy and only his team and himself can get to the bottom of what's happening. Other then Skipper there is Kowalski, and he is the analyst of the group. He uses his trusty crayon, notebook, and his wanna be scientific mind to make plans and devise routes. Next is Rico, and I guess you can say he is the nutty one out of the foursome. Rico is the one who provides objects for each concoction that the team carries out. Lastly is simple minded Private. Out of all four characters I guess you could say that Private has to be my favorite. He has no sense of self, or what his whole purpose is in the group. He is a kind soul, and very open to everything and anything. The animated series airs on Nickelodeon, and along with the penguins is other characters from the motion picture like King Julian, Mort, Maurice, and Marlene. I think you guys will have fun with lesson on œhow to draw The Penguins of Madagascar, step by step. I used a picture from the web as a reference for the sketch, which will enable you to draw each character with ease. Well I still have three more lessons that need to be submitted. If you guys can hang around a bit longer that would be great, and if you can't then come back tomorrow. Peace out guys and happy drawing!....
Step 1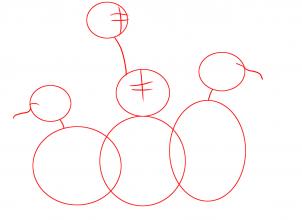 Draw four head shapes and four body shapes. You will then add the facial guidelines and lastly add the necks. Believe it or not but, this is going to be a very simple lesson.
Step 2
Now you can start sketching out the body shapes for each penguin you see here and if you count you will see four. Once the outlined shape is drawn out, you can draw the flippers on some of the Madagascar penguins, and even the beaks.
Step 3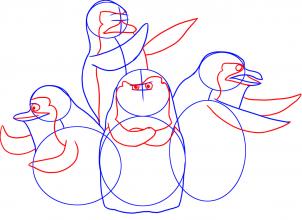 16.Sketch more of their bodies out as you see here, and then draw all of the flippers on each penguin. Next, sketch out the eyes. Notice how each penguin has a different expression on their face which actually makes these guys distinct.
Step 4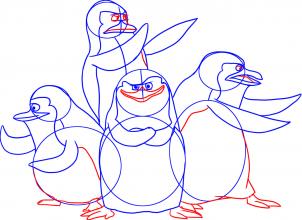 For your last drawing step all you have to do is draw the rest of the beaks, the rest of the eyes, and then draw their duck like feet as you see here. Once that is done you can start erasing all the guidelines and shapes that you drew in step one to prepare your animated animals for color.
Step 5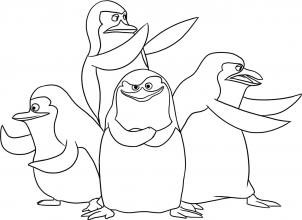 Here is what the finished product looks like when you are done. I do hope you guys had fun learning how to draw The penguins of Madagascar, step by step. Join me next time for another fun filled tutorial.

You will find incredible drawing tutorials for kids with step-by-step explanation how to create great drawings. All how to draw tutorials on HelloKids are provided by our partner, Dragoart.com. Pets, Pokémon, fantstic beast and dragons, be sure you will find something to draw on Hellokids!