I have been really getting into Fanboy and Chum Chum, and one of the characters that I have been falling in love with is Yo. Yo is a cute, fun loving eleven year old girl that happens to be friends with both Fanboy and Chum Chum. If you watch the show you already know that she is head over heels in love with Chum Chum and she has no shame in hiding her feelings. The other thing she loves other then her boy wonder is her digital pet Yamaguchi. I have to be honest, when this cartoon series was first released from Nickelodeon, I really didn't think it was going to be as funny as it is. I get so into the show, and needless to say it's a little embarrassing because I am a little to old to be watching the series. I see it like this though, if parents get into it, then what's wrong with a seventeen year old loving the show too. Now because the cartoon is fairly new, the characters are still being developed and episodes are still being made. I have a feeling that Yo is going to one day come to Chum Chum's rescue and from that point on he will be forever grateful to her. Oh my god, I forgot to actually say that I will be teaching you œhow to draw Yo step by step. Like all other characters from Fanboy and Chum Chum, she will be just as easy or hard. I get e-mails from random users that say a lot of my lessons are hard. All I can say to that is, if your a novice artist, the intermediate tutorials will seem a bit difficult. There is no such thing as accomplishing something easily. What ever you choose to take on in life is going to be a struggle at first, but the more you stick with something, the easier it becomes. My advice to all you members, and users that feel the tutorials on Dragoart.com is too hard, if you want easy, search for œnovice labeled lessons. Most of those are on easy cartoon characters like Spongebob, Patrick, and others. Just seek and you shall find. That does it for me gang, join me again for another fun filled drawing lesson. Peace out, stay determined, and have fun drawing!....
Step 1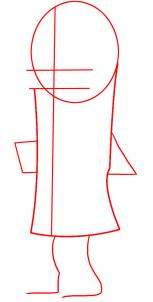 Start by making a circle for her head and then add the facial guidelines. You will then draw out outlined shape of Yo's body frame as you see here which looks like a rectangle. Lastly, draw the limb lines.
Step 2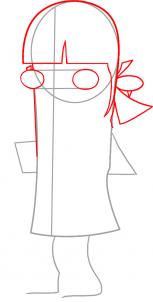 One of the concepts about Yo that makes her look so adorable is her hairstyle. Draw a bowl like shape for her head and bangs leaving a cut notch to the right. Draw a pigtail and the shape of her ear. Next utilize the facial guidelines to draw in her eyes.
Step 3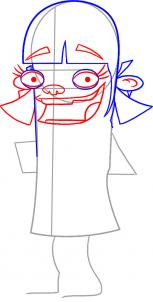 One thing about Yo is her friendly face. Draw her eyebrows which happen to be onto of her bangs, and then finish sketching out her pretty eyes. Notice she has three long lashes on each eye, as well as top and bottom lids. Draw her nose, mouth, teeth, and tongue, and then draw the other pigtail as well as some inside detailing for her ear.
Step 4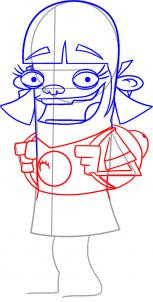 Now that Yo's face is done you can now begin drawing the upper body. Start by drawing the "V" shape to her top, and then cap off the bottom. Draw a circle on her chest, and then draw the short sleeves, skinny arms, hands, and her backpack.
Step 5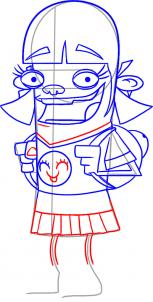 Draw the smily face on her shirt inside of teh circle you drew in the previous step which would have been four. Then you will give her shirt collar a border, and then draw the lining to form a skirt. The vertical lines need to be added which will make her skirt look like a ruffle. Draw her twig legs and then proceed on.
Step 6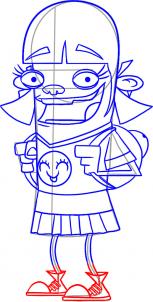 Finish drawing her ankles and then draw out her high-top sneakers. Erase the lines you didn't use to clean up your drawing. You always want a clean sketch to color in so that the shades look solid and bold.
Step 7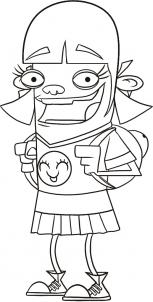 Look at that guys you just learned how to draw Yo. Now Chum Chum has his girlfriend to be to join him by his side. Yo will also be happy too. Color her in and that's it. Great job guys, don't forget to rate and comment!

You will find incredible drawing tutorials for kids with step-by-step explanation how to create great drawings. All how to draw tutorials on HelloKids are provided by our partner, Dragoart.com. Pets, Pokémon, fantstic beast and dragons, be sure you will find something to draw on Hellokids!