How to Draw a Cute Dinosaur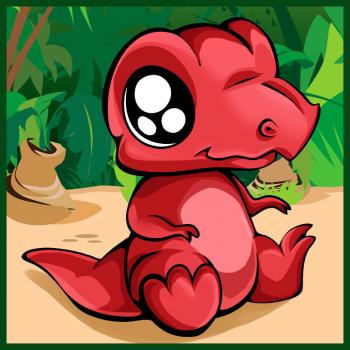 Dinosaurs are no doubt about it, the most popular animal that ever existed. Almost everything about other animals is linked to the dinosaur race. For years, and years, there has been so many different types of stories, art, tales, movies, and books that are based on some of the worlds most popular dinosaurs like the T-Rex, Velociraptor, Triceratops, and Brontosaurus. If you where to ask me which out of the four listed is talked about or awed more? I would have to say the Tyrannosaurus Rex. This lesson is the last of the œcute series for today, and it will be on œhow to draw a cute dinosaur", step by step. I have to say, this is probably a really good lesson to do with your family, and friends. Especially if you are a parent and you love spending artistic time with your children, this would be a great tutorial to tackle first. The baby dinosaur is fairly easy to draw, all you have to do is follow the steps. If there are little hands doing the drawing, then give them a nice big crayon to draw with and guide their hands so they can get the hang of drawing slowly, and in pieces. When you're done with the drawing, you can have even more fun coloring in the dinosaur to your liking. This was a really fun lesson for me, and I am very proud on how it came out. I hope you will all have fun learning how to draw a cute dinosaur, step by step. If there is an animal you are looking for that you would like to see in the œcute series, leave a comment, or send an e-mail with your requests. I will make sure to fill them. Well, that does it for this tutorial description. I shall return in a few, and I promise I have something for all you older artists out there. Bye guys, and happy drawing!....
Step 1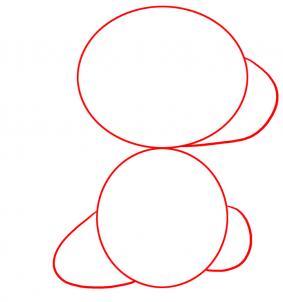 Okay, first draw two big circles, with the top shape resting on the body shape. Next draw the round pieces for the dinosaurs nose, tail, and foot.
Step 2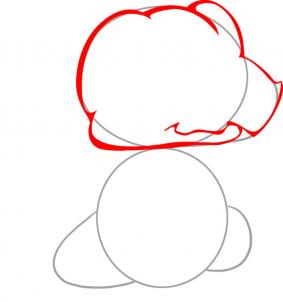 You will now start drawing the actual shape of the cute dinosaur's head. It would be easiest to start on the left side, and work your way around until the head is drawn the way you see it here. Next draw the friendly mouth line, and bump for the nose.
Step 3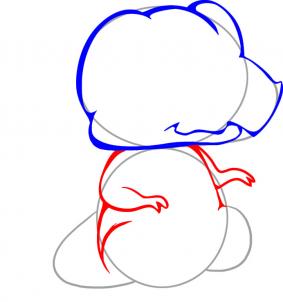 You will now start sketching out the shape of the upper body like the shoulders, arms, and two clawed hands. Work your way down and draw the chest, and back end like you see here.
Step 4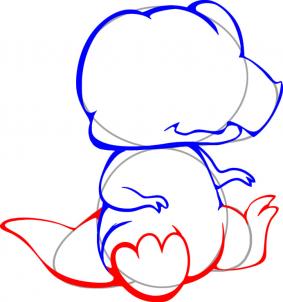 The next step is to draw the cute chunky tail for your baby dinosaur, and then draw the toddler looking feet and legs. Finish drawing the body by adding the belly, and bottom. When you ink out this drawing, the lining should be bold like you see here. Each foot should have three toes to keep it simple.
Step 5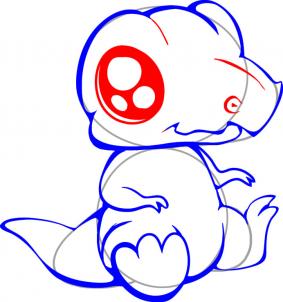 Now for your last drawing step all you need to do is draw one big circular eye, and then color it in almost all the way except for three circles, and some white around the large pupil. Draw some definition on the bridge of the nose, and add another nostril and hole. Erase all the guidelines and shapes to clean up your drawing.
Step 6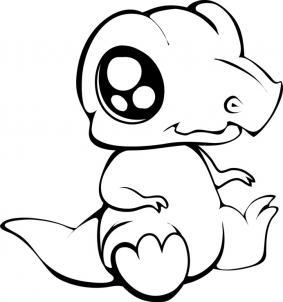 Here is how your baby dinosaur looks when you're done. Color in the reptile, any color you like, blue, pink, yellow, purple, brown, or even green. Great work, and join me again for another colorful lesson.

You will find incredible drawing tutorials for kids with step-by-step explanation how to create great drawings. All how to draw tutorials on HelloKids are provided by our partner, Dragoart.com. Pets, Pokémon, fantstic beast and dragons, be sure you will find something to draw on Hellokids!