How to Draw Kick Buttowski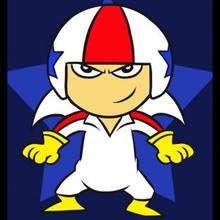 Okay, this next tutorial is for a member that asked for me to do a lesson on one of his favorite characters from the hit animated series, œKick Buttowski: Suburban Daredevil. So, having said that, this goes out to Dragoart member œDrawme, and its going to be on "how to draw Kick Buttowski", step by step. The series is a brand new show that started airing earlier this year in the month of February. The show follows a young twelve year old boy named Clarence, or otherwise known as Kick, as he seeks out death defying stunts due to his massive urge to do dangerous and reckless tricks. Even though he is an amateur thrill seeker, his whole motive in the series is to live everyday to the fullest, and as he does, Kick makes sure that he lives his life as if he where in his own action packed movie. Kick's character is very distinct. He is recognized because of his short stature, and clothing ensemble. Kick wears a white daredevil suit, with a white helmet that has a red stripe down the middle, followed by a pair of yellow leather gloves and boots. He is a very easy character to draw, and I think you will find that learning "how to draw Kick Buttowski", is one of the funnest lessons you will try. I will be back with some more drawing fun so stay tuned in and have a happy drawing day. ....
Step 1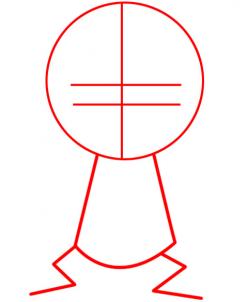 First draw the shape for his head, and then add the facial guidelines. Next draw the shape of Kick's body, and then draw the wire lined legs.
Step 2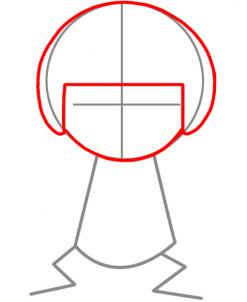 Next, draw the shape of his daredevil helmet like you see here, and then the shape of his lower face. See how easy this is so far?
Step 3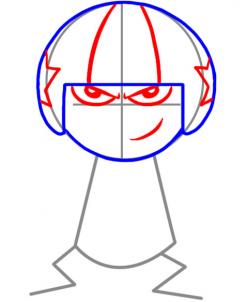 Okay, his helmet has two stars on each side over his ears, and a bold stripe down the middle of his helmet. Next, completely draw the eyes pupils and all, and then draw a sly smirk.
Step 4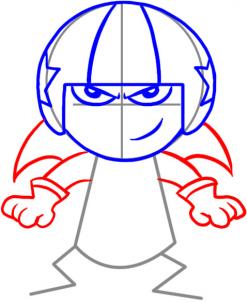 You are doing very good so far, you just have a little more to go. Here you will draw out the wide cape like collar, and then draw the arms, and gloves. His hands are in a clutched pose you will have to draw them this way as well.
Step 5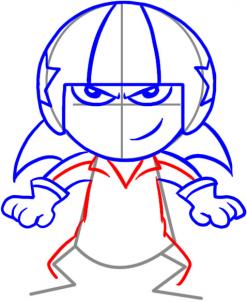 Draw the shirt collar, and then sketch out more of his body shape or outline. When that is done you can add the stripes on his sleeves.
Step 6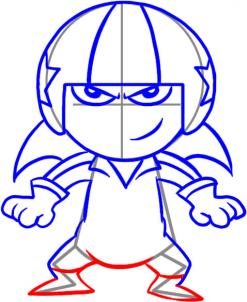 Are you ready to finish drawing Kick? Good, let's get to it then. Now all you have to do is draw out his legs, and boots. Once that is done draw the line for the boot tops, and then start erasing all the lines and shapes you drew in step one.
Step 7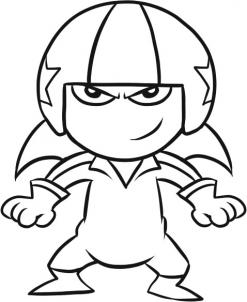 Look how awesome this character came out. All you need to do now is color him in to make Kick whole. Great work guys, and be sure to join me for more drawing fun. Don't forget to rate and comment!

You will find incredible drawing tutorials for kids with step-by-step explanation how to create great drawings. All how to draw tutorials on HelloKids are provided by our partner, Dragoart.com. Pets, Pokémon, fantstic beast and dragons, be sure you will find something to draw on Hellokids!