Hey guys, this is Dawn with another great lesson for all you Pokemon fans. I've watched several Pokemon movies and episodes, but I haven't really seen this character in it. This character appears to be some sort of canine with very bright colors. I'm guessing that the creature is female. Do any of you know if this creature appeared in a movie or episode of the Pokemon world? If so, please don't be hesitant to let me know! My brother and I love the series. I used to collect lots of Pokemon cards and had stacks of them in my drawers. Ok, I'm probably boring you with nonsense about this stuff, so I'll move on to talk about drawing Suicune. This Pokemon has blue, purple, and greenish white hues that compliment it's elemental type. I believe this critter is of a Crystal descent. It was also featured on the box art for 'Pokemon Crystal'. There's another creature that I've seen while browsing for popular creatures. I plan to make a tutorial of the that particular critter that caught my eye. Anyways, this tutorial took some patience and referencing in order to capture the true essence of Suicune. In this tutorial you will learn how to draw Suicune step by step. I didn't really like the original colors of her so I wanted to enhance them in Photoshop. I saturated the colors to make the overall image very appealing. To draw Suicune, you must practice the overall character. Draw Suicune's face first so you can get a head start with drawing everything else easily. I always start my drawings off with the basic guidelines for the head and I work my way down as I progress. Well folks, it's time for my move onto my other lessons. I wanted to put this tutorial up for a while so I'm sorry for keeping you all waiting. I'm going to be posting some more drawing videos just incase some of you enjoy those as well. Thanks for viewing and don't forget to rate, comment, and favorite! Have fun.....
Step 1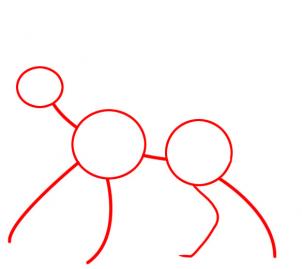 Start this step off with the few basic guidelines. This means start sketching 3 nice circles that vary proportionally. After you've drawn the circles, draw the line work for the legs.
Step 2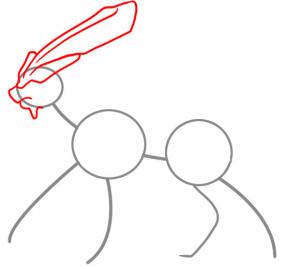 Now that you've made it to this step, start sketching the basics of the head. Like I said previously, it's best to start with the head first and then the body. This way you'll have a better shot at drawing Suicune proportionally.
Step 3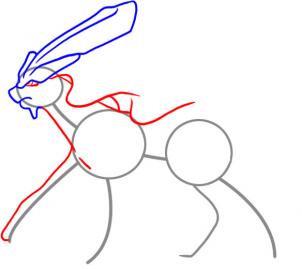 Here you will draw more of it's basic body details. Start drawing the long mane from the back of its head. Afterwards, draw the neckline and then the beginning of the legs. Don't forget to sketch out the eye!
Step 4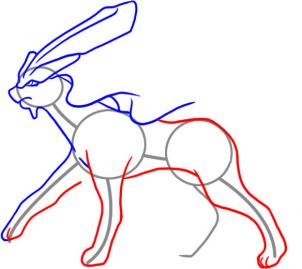 Here you will start drawing the rest of it's body. Take your time to draw the legs. This can get a bit tricky because of how much you have to draw at once. A little trick is to keep in tune with the guidelines. This helps a bunch because you'll know where your drawing standards are.
Step 5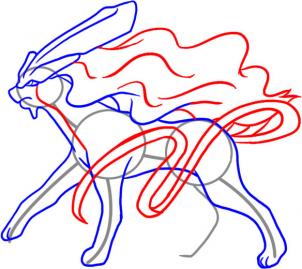 Here we will finish off the large mane of Suicune. Sketch the Pokemon's beautifully tapered tail. I had a lot of fun drawing the tail. Anyways, once you've done that, start sketching the underside of this Pokemon.
Step 6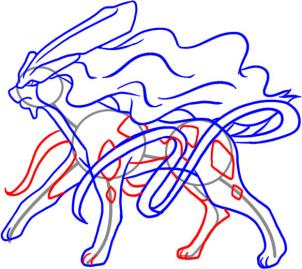 This is the last and final step until you finish. If you're satisfied with what you've drawn, you can move onwards and draw the spiffy little markings on Suicune. Once you've completed, get ready to see your results!
Step 7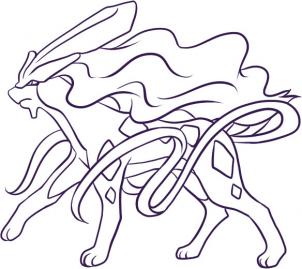 Here's what your drawing should resemble. Now it doesn't have to look exactly like this, but it would be pretty close depending on your skill level and time spent. I hope you enjoyed this lesson; I tried to give some pointers on what to do when you come upon steps. Thanks for viewing!

You will find incredible drawing tutorials for kids with step-by-step explanation how to create great drawings. All how to draw tutorials on HelloKids are provided by our partner, Dragoart.com. Pets, Pokémon, fantstic beast and dragons, be sure you will find something to draw on Hellokids!