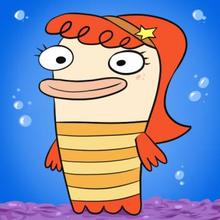 Fish Hooks is a new cartoon series that will be airing on the Disney Channel sometime in the Fall months. Earlier, I submitted a lesson on one of the three main characters of the series, and I also said that there will be at least two new lessons on the funny figures of the series. The first tutorial was on the party animal Milo, and this second one will be on "how to draw Bea", step by step. Bea is the close friend to brothers Milo and Oscar, and she is also a goldfish that carries the label œdrama queen. All three teens attend a school called œFreashwater High which is located in a huge fish tank that is stationed on display at a pet shop. Anyway, the series follows all three students as they go about their lives. Bea is the only character that I know the species of fish she happens to be and that is a goldfish. Drawing Bea was fun because she has such a friendly looking face, and a very colorful style. Did you know that the last animated cartoon series that Disney released was Phineas and Ferb? It's true, Fish Hooks is going to be a fresh addition to the Disney Channel line-up which is really cool. In all I think it will be a good show, and hopefully everyone here on Dragoart checks it out. Have fun with this lesson, and be sure to take your tome when you draw Bea. I have to go but I will be back with one more lesson that is going to be an exciting addition to the Naruto characters category. Peace peeps!....
Step 1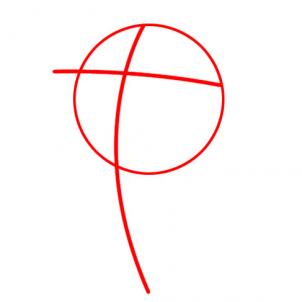 Okay, you will begin by making a round shape for her head, and then add the facial guidelines.
Step 2
Next, draw the curly line for her bangs, and then add the shapes for her bulging eyes, and wide smile. Lastly draw the front line for her body or chest.
Step 3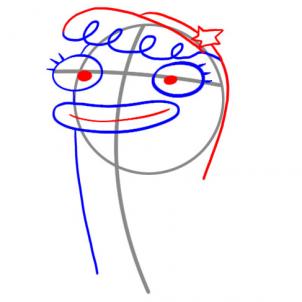 Continue drawing her hair, and then add her pretty headband that is topped with a star. Next, color in the pupils, and lip line, and then draw more of the shape for her body.
Step 4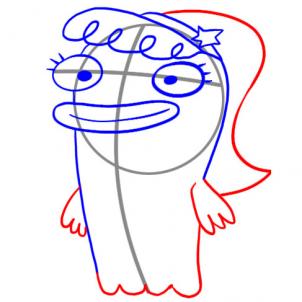 Draw the back of her hairstyle, and then finish drawing out her body which also happens to be her clothes too. See how pretty Bea is coming out?
Step 5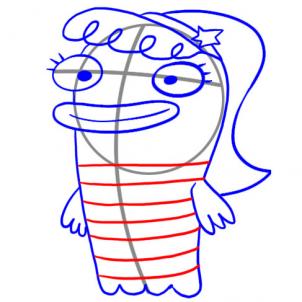 Yeah I know, this was definitely a fast lesson. Finish off Bea by drawing her striped lines on the pretty dress. Erase the guidelines and shapes you drew in step one to clean up your drawing.
Step 6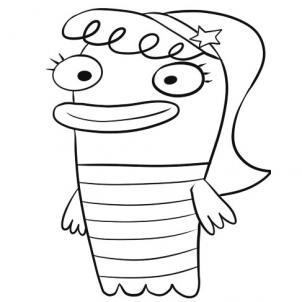 When you are all done, Bea should come out looking like the cartoon goldfish you see here. Color her in and you have just created one of the newest students of Freshwater High.

You will find incredible drawing tutorials for kids with step-by-step explanation how to create great drawings. All how to draw tutorials on HelloKids are provided by our partner, Dragoart.com. Pets, Pokémon, fantstic beast and dragons, be sure you will find something to draw on Hellokids!