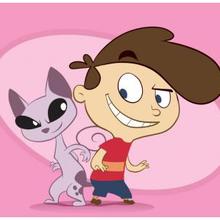 Here is one more tutorial for the books, and for now I will upload my last lesson later on today. There is a new animated series that has been out since February of last year, and Disney XD has been the network that the show has been hosted on. Today, I will teach you "how to draw Kid vs. Kat", step by step. The series was created by Rob Boutilier, and it was originated in Canada, back in 2008, and then later in the United States in 2009. The show follows a ten year old kid named Coop, and a stray cat named Kat. Instead of the typical storyline of owner and pet get along, and go on special adventures like Jake and Finn, Coop and Kat are rivals, and they are instantly going at each others throats. Almost like a fight to the death type of thing. I know what you're thinking, why on earth would a kid bring home a cat he didn't like? The answer is simple, he didn't bring the cat home, his sister Millie did. So, needless to say the war is on going until someone comes to a finish, or starts waving a white flag. The truth is Mr. Kat isn't a cat at all. Instead he is an alien that is taking the form of a Sphinx cat, and his main objective in the series it to collect Fishy Frisky Bits, which is a brand of cat food, and to get back home. I haven't personally seen the series yet, but I hear it's really good. Well, if you ask me you guys should have fun with this tutorial especially if you are a fan of the show. I will return later with one more educational lesson, but for now tackle this one on "how to draw Kid vs Kat". I have to pounce out of here for now, but have no fears, me presence will reappear. Adios amigos, and have fun!....
Step 1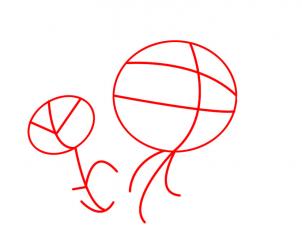 Draw two shapes for two character heads, and then add the guidelines for the faces, and bodies like so.
Step 2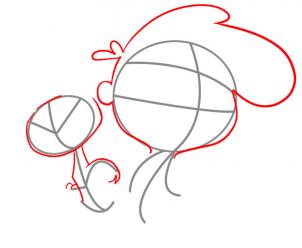 Now begin sketching out the shapes of their heads, and faces, and be sure to incorporate the ear, and hairstyle for Coop. You will draw some of Kat's body, and when you are done, move to step three.
Step 3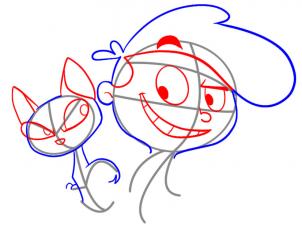 Finish drawing Cooper's hair line, and then draw out the eyes, nose, and mischievous grin. Color the eyebrows and pupils, and then draw Kat's ears, eyes, and nose like so.
Step 4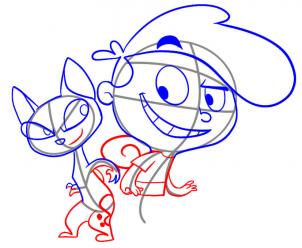 You can start drawing the torso of Coop which consists of the tee-shirt, and arms, and then draw the rest of Kat's body as well as the spots on his thighs, and the tail. Don't forget the grin.
Step 5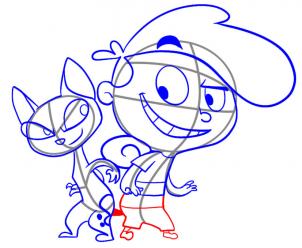 Now all you need to do is finish drawing Coop's body. This is his butt, legs, and shoes. Erase the lines and shapes that you drew in step one.
Step 6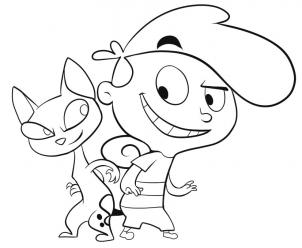 When you are all done, this is how your two characters should look like. Color them in and you just drew Kid and Kat.

You will find incredible drawing tutorials for kids with step-by-step explanation how to create great drawings. All how to draw tutorials on HelloKids are provided by our partner, Dragoart.com. Pets, Pokémon, fantstic beast and dragons, be sure you will find something to draw on Hellokids!