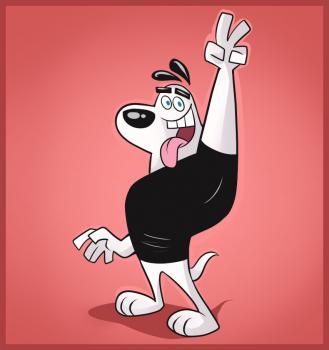 Okay, I've decided to go on a new character kick for a while which means I may, or may not upload two characters a day from new upcoming shows that will either be on Nickelodeon, Cartoon Network, or Disney Kids. This next lesson is going to be on a pup that is tough, kind, and even goofy. Dragoart's third lesson for the day is going to be on œhow to draw Dudley Puppy", step by step. He is from an upcoming show that will be airing on Nickelodeon come October 2nd called œT.U.F.F. Puppy. The series follows a young pup named Dudley, and his partner Kitty Katswell. Together they find, and stop crime that hits the streets of Petropolis. The Chief is who assigned this cat and dog duo, due to the fact that Dudley seems to have a problem with doing things right before things go wrong. Kitty Katswell is more of a no nonsense cat that likes to get the job done, and done right. Don't get me wrong, he is a really cool puppy, the only problem is just that, he's still a puppy. Even though he works hard at what he does, the young heart in him makes Dudley a ball of energy that can't be tamed. I think you will have fun learning "how to draw Dudley", even if you didn't know who he was until now. I shall return my fellow artists, so stay tuned in to see what else I have in store for ya'll. Adios amigos!....
Step 1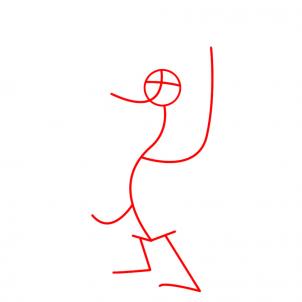 Make a circle shape for Dudley's head, and then add in the guidelines for his face, and body like you see here. Move to step two when you have drawn out a nice workable body frame for this tuff puppy.
Step 2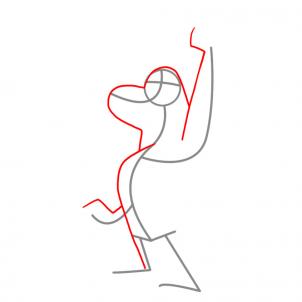 Using those guidelines that you drew in step one, you will start sketching out the outline of Dudley's body like shown to you here. This includes the head, snout, chest, and arms.
Step 3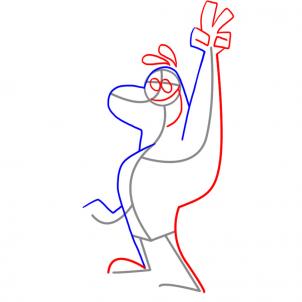 Draw the remaining lines for his arm, waist, and legs, and then draw in his right paw. You will also need to add his left foot, and then draw in two circle for his eyes, some head hair, and the beginning of a great big excited smile.
Step 4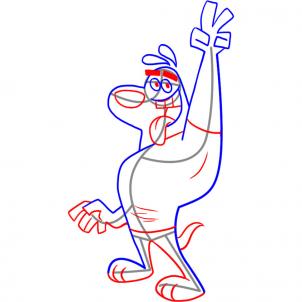 Well guys, you have reached the end of the road. It's now time that you finished off this character by drawing out the rest of his legs, and feet. and then his left hand. Color in some eyeballs, and then draw and color some thick eyebrows. Finish off his face by giving him a nice smile, big nose, and a drooling tongue. Erase the lines and shapes you drew in step one to clean up your drawing. Oh yeah, don't forget to give this pooch a tail.
Step 5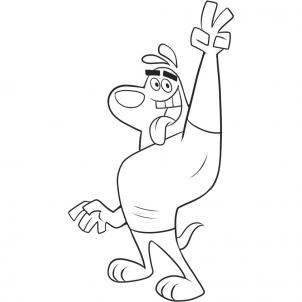 Now that you're done, Dudley should look as good as you see him here. Doesn't he look like a dog version of Johnny Bravo minus the glasses and jeans? Great work everyone.

You will find incredible drawing tutorials for kids with step-by-step explanation how to create great drawings. All how to draw tutorials on HelloKids are provided by our partner, Dragoart.com. Pets, Pokémon, fantstic beast and dragons, be sure you will find something to draw on Hellokids!