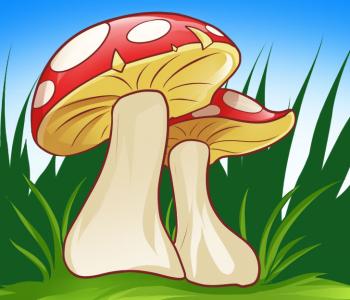 And here it is my last tutorial for the day. To end my presence until eight o'clock tonight, I will be giving you a lesson on a certain food that many of people around the world love eating. If you love mushrooms, you will enjoy this submission on "how to draw mushrooms", step by step. Now I am one of those people that absolutely loves eating mushrooms of all sorts. I love sautéing them in a pan with olive oil, salt, and pepper mixed with some sliced sweet onions, and then later place them on a juicy sirloin burger, hot dog, steak and cheese, or even on some really saucy pizza. The mushroom is a very light weight food that contains ninety percent water. This means if you want to put some chopped mushrooms or anything else you want to put in the oven, you should pre-cook the food first. Anything like peppers, onions, mushrooms, carrots, and other high water content food, you should always sauté the vegetables first. I think you will have an awesome time with this tutorial that will teach you "how to draw mushrooms", step by step. These are great shrooms that can be added as a background image for a fairy, insects, or even an animal that loves eating mushrooms on the reg. I will see you guys tomorrow with more drawing fun so stay tuned in to see what I have in store for you all. Meet me back here around eight o'clock for another awesome Livestream session. Adios peeps, and enjoy the rest of your drawing day.....
Step 1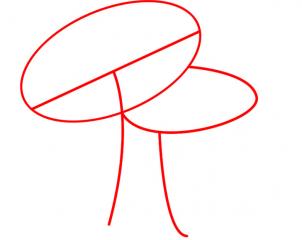 Start by drawing two oblong shapes that looks a lot like coffee beans. Next, add the guidelines for the caps, and stem.
Step 2
Now you can sketch out the shapes of the caps, and be sure that the edge lining is crooked and not soft like.
Step 3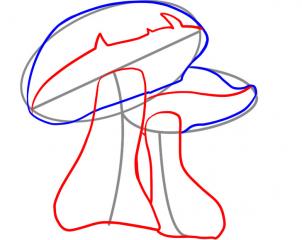 Detail and define the mushroom caps, and then draw out the thick shape of the stems.
Step 4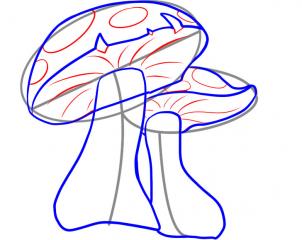 Next, sketch in the mushrooms ribs located under the cap. Now if you want you can draw out the spots, and move to the next step.
Step 5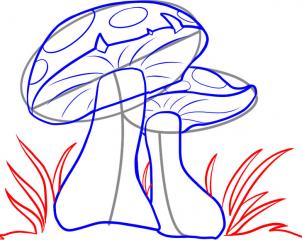 Here is the last drawing step and all you have to do is draw in some nice high grass, and then you can start erasing all the guidelines and shapes you drew in step one.
Step 6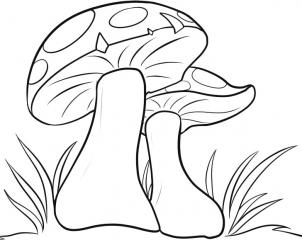 Here is how your drawing should come out looking when you are done. Color them in and use your new drawing for a background or keep it plain.

You will find incredible drawing tutorials for kids with step-by-step explanation how to create great drawings. All how to draw tutorials on HelloKids are provided by our partner, Dragoart.com. Pets, Pokémon, fantstic beast and dragons, be sure you will find something to draw on Hellokids!