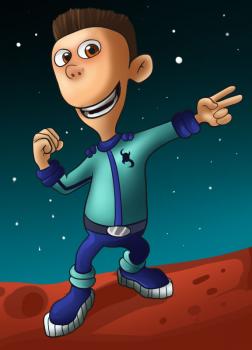 Well, today is the day that a new cartoon airs or already aired on Nickelodeon called œPlanet Sheen. From what I have read on the site, it's about a fourth grader who steals his best friend's rocket ship and blasts himself to another planet called ˜Zeenu'. It is there where he has to find a way to fix the broken space craft to get back home. Unfortunately he doesn't know how he is going to fix something he has no way of doing. Luckily he makes new friends on this strange new planet, and runs into a chimp that knows how to do practically everything. Who is this person or character that you will be drawing? Well, I thought it would be cool to submit a lesson on "how to draw Sheen", step by step. Sheen is the main character of the series, and did I mention that his best friend he stole the space ship from is Jimmy Neutron, pretty neat huh. Well I don't want to tell you the whole storyline, so I will shut up and let you get busy with this submission. I will be back because I still have more drawing fun on the way. Peace out people, and have a wonderful drawing day.....
Step 1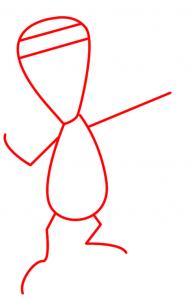 Drawing Sheen is going to be simple. All you have to do is draw the shape of a top, and then add two guidelines near the top of the head. Next, draw out the tear drop shaped body, and add the limb lines too.
Step 2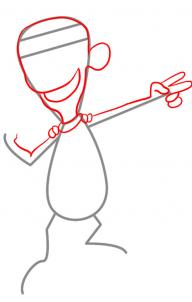 Begin sketching out the actual shape of Sheen's face like you see here. When that is done add an ear, a great big smile, and then draw the collar, shoulder pads, and arms along with the right hand.
Step 3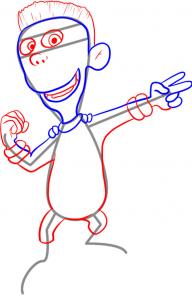 Now its time to draw out his hair, and be sure you make it look nice and spikey. When that is done completely draw out the eyes, and then draw his pig like nose. Add some teeth inside of his mouth, and then finish drawing out the arms, sleeves, and most of his body like you see here. There is puffed up rings around his sleeve cuffs, that will have to be drawn in as well.
Step 4
Finish drawing out his clothes by adding a bold design line on the arm, and then draw the front zipper, and belt. When that's all set, you can draw out the boots and or shoes. Also make the emblem on the front of his uniform. Erase the lines and shapes that you drew in step one.
Step 5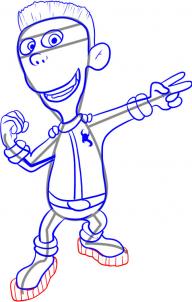 afd
Step 6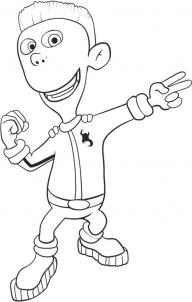 This is how Sheen looks when you are all done. Now all you have to do is have some good fun coloring him in.I hope you enjoyed this lesson.

You will find incredible drawing tutorials for kids with step-by-step explanation how to create great drawings. All how to draw tutorials on HelloKids are provided by our partner, Dragoart.com. Pets, Pokémon, fantstic beast and dragons, be sure you will find something to draw on Hellokids!