How to Draw Verminous Snaptrap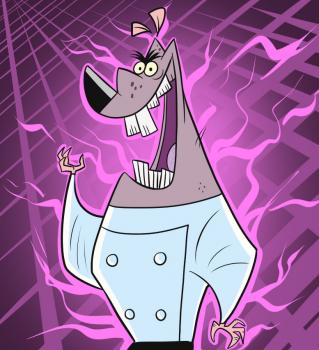 Remember those characters I submitted from that new animated television show called T.U.F.F. Puppy? Well, today I will be submitting another figure from the very same Nickelodeon series, and this time it's going to be on one of the villains. He is mean, nasty, full of hatred, and one of the evilest characters in cartoon form. I am going to show you "how to draw Verminious Snaptrap", step by step. This character is crude as they come. Even though his tough stature looks to be a bit intimidating, Snaptrap is nothing more than a rotted old rat that is bitter because he has been dealt a bad hand in life. He is also the leader of D.O.O.M., and he will do everything in his power to make everyone just as unhappy as he is. I mean, just think how bitter Snaptrap has to be. He's a rat, but he is allergic to cheese which means he has never had the pleasure of tasting how awesome the creamy, hard substance is like other rats of his kind. The only thing that stands in Snaptraps way is the crime fighting team that is part of T.U.F.F. Dudley and his partner Kitty Katswell have to keep the streets clean from Snaptraps evil schemes. You should enjoy learning "how to draw Snaptrap" because he is a wicked cool looking character from the show. There is much more that is coming your way so keep your eyes peeled to see what pops up next.....
Step 1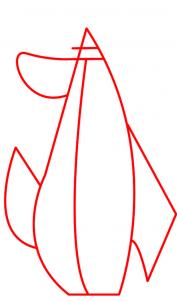 Start by drawing a bullet tip shape for the body of Snaptrap. When that is done you can draw the shapes for his nose, and arms like so.
Step 2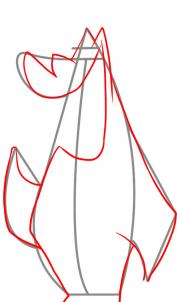 Begin sketching out the actual shape of his body like you see here. The opening is actually the mouth, and the pointed mounds on his head is the brows.
Step 3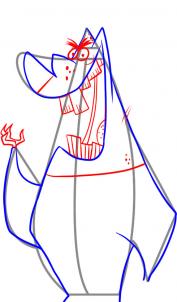 Fill in the wide open mouth with some real rank teeth. Add the lines on the teeth for added detail and definition. Draw the collar line for his shirt, and then draw in the evil looking eyes, hairy eyebrows, and draw the line for the nose. To end this step all you have to do is draw out the tongue, whisker holes, and the ratty looking hand.
Step 4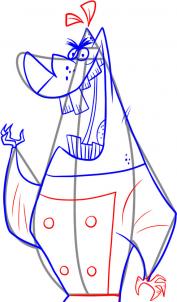 End your lesson by adding some detailing to the shirt sleeves, and then draw the lining for the mad scientist jacket he is wearing. You will also add four buttons, and then draw the dis-attached ears. Erase the lines and shapes you drew in step one.
Step 5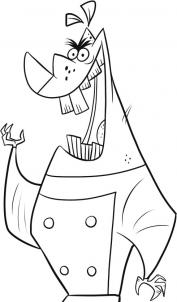 You can now color in Snaptrap to complete his image. I hope you had fun drawing this character from T.U.F.F. Puppy.

You will find incredible drawing tutorials for kids with step-by-step explanation how to create great drawings. All how to draw tutorials on HelloKids are provided by our partner, Dragoart.com. Pets, Pokémon, fantstic beast and dragons, be sure you will find something to draw on Hellokids!