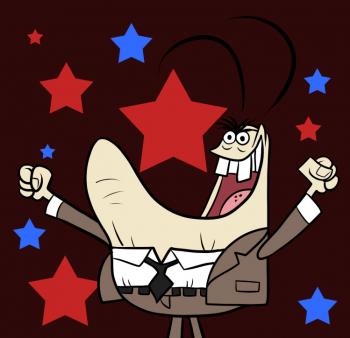 How many of you members have been following the new Nickelodeon show T.U.F.F. Puppy? Well, if you're smart you are already a fan of the series, and if you are not keeping up the the show, you should most definitely do so. Today, I thought I would submit a lesson on another character that is semi important. You will be taught how to draw The Chief, step by step. Chief is a st rang man because by his looks, you don't know if he is good, or evil. Of course The Chief may appear to be this way because he is nothing more than a flea. He is almost like Plankton when it comes to his temper, mood, and personality. In general The Chief is an awesome character that is full of life even if he is just a small flea that acts larger than life. From all the hard work, the T.U.F.F. is an organization that is no nonsense which is why Dudley is doing such a fantastic job. Maybe even a little too fantastic for The Chief himself. Anyways, I think you will enjoy this lesson that is going to show you in easy detail how to draw The Chief from Tuff Puppy, step by step. Who knows, maybe Chief and Plankton will make great friends one day. I will be back with more drawing fun so try and stay tuned in to see what else I have in store for you guys today. Adios people, and enjoy the rest of your drawing day.....
Step 1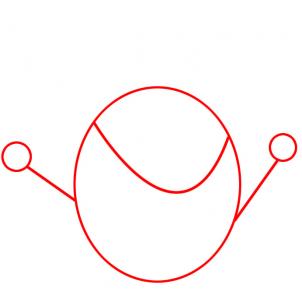 Draw a large or medium shaped circle for the shape of Chief's body, and then add one facial guidelines, and some arm lines. Cap off the arms with hand circles and then proceed onto the next step.
Step 2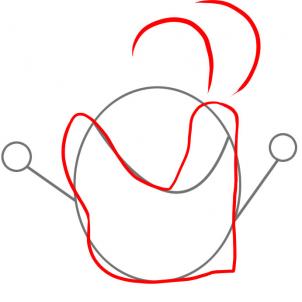 The next thing you will do is draw out the tooth like shape of the Chief, and then draw two arched lines for his flea antenna's
Step 3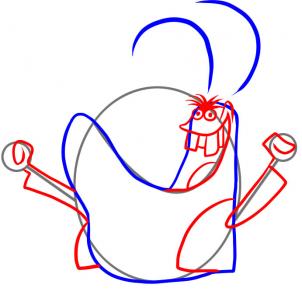 Once the actual shape of his entire body is drawn out, you can begin drawing in the face which consists of some uneven teeth, small beady eyes, and a patch of hair smack dab in the middle of the fire head right on top of his eyes. Next draw out the jacket arms, sleeves, and then draw the hands or thumbs.
Step 4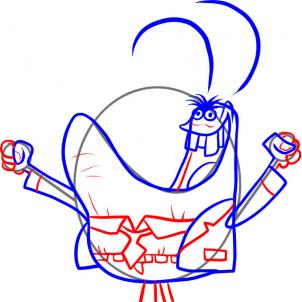 Finish drawing out the hands, and then add the linings for the sleeves. Finish the jacket by adding the collar, and then draw in the clothes which consists of a shirt, belt, and pants. Add the pockets to the jacket, and then give Chief some legs, and skin definition like so.
Step 5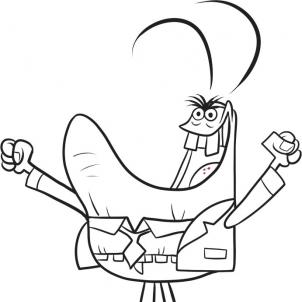 Here is what he looks like when you are all done drawing the Chief. Now you can color him in and you're done. Thank you for viewing this lesson on how to draw Chief from Tuff Puppy.

You will find incredible drawing tutorials for kids with step-by-step explanation how to create great drawings. All how to draw tutorials on HelloKids are provided by our partner, Dragoart.com. Pets, Pokémon, fantstic beast and dragons, be sure you will find something to draw on Hellokids!