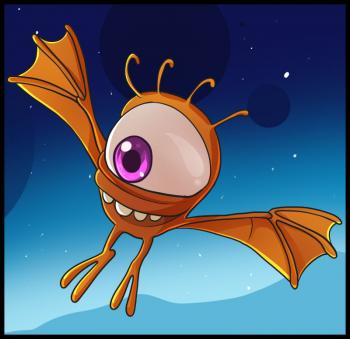 Howdy ya'll, its me Dawn your trusted fellow artist and friend back with another lesson that I think you might enjoy. Today I will be doing a lot of requests because I really haven't done so in a while. To start, I will be showing you guys "how to draw Pinter", step by step. Who is this Pinter you ask? Well, if you watch the Nickelodeon show called œPlanet Sheen, you will already know that Pinter is a flying eyeball that works for the evil Dorkus as one of his minions. Pinter is described as being a brown nosing weasel that will stop at nothing to be an informant for Dorkus. I guess you could say Pinter is your typical minion that you commonly see with evil doers in any good animated or fictional series. He is super easy to draw which means there should be little to no problems at all when it comes time to draw Pinter in detail. You can even draw him hovering around the heads of Sheen, and his buddies as they try and hide what they are talking about so his evil master doesn't know what they are going to plot next. Well, that will do it for this tutorial description. I have to start getting ready for another Live stream which means I have to bust my butt to get all my tutorials up for the day. Peace out folks, and enjoy your drawing day!....
Step 1
Start with a circle for the head or eye and then add some guidelines to form the wings, body and legs.
Step 2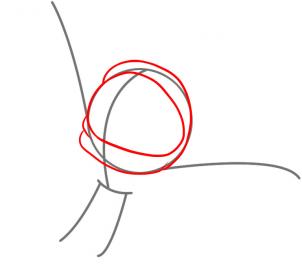 Start sketching out the shape of the large eyeball like you see here. Notice how the eyelids are thick and bulging which is what you want.
Step 3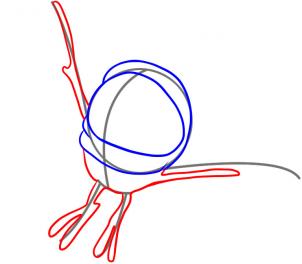 Draw out the beginning shapes of the wings like so, and then sketch out the body or belly along with the legs, and two toed feet. When this step is all set, you can move to step four.
Step 4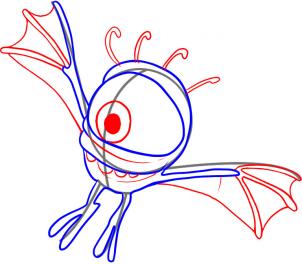 Well, this is it. You have come to the last drawing step which will complete this character in detail. Draw out the eyeball, color in a pupil, draw in some teeth, and then finish drawing out the wings. When you are done with all that, the last thing to add is the thick eyelashes, four in total. Erase the lines and shapes that you drew in step one.
Step 5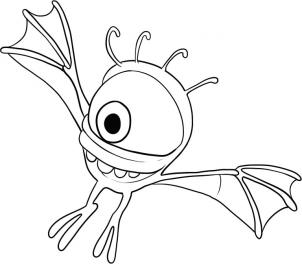 Now that you are all done, you can start coloring him for total completion. I do hope you enjoyed learning how to draw Pinter with me, and I also want to thank you for joining me with this tutorial.

You will find incredible drawing tutorials for kids with step-by-step explanation how to create great drawings. All how to draw tutorials on HelloKids are provided by our partner, Dragoart.com. Pets, Pokémon, fantstic beast and dragons, be sure you will find something to draw on Hellokids!