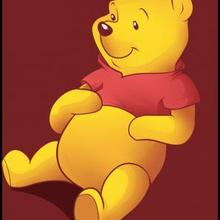 I have been getting a request to make a tutorial that can teach a novice artist "how to draw Pooh Bear", step by step. I know what you're thinking, I already have a bunch of submissions on Winnie the Pooh, but to tell you the truth I believe that Pooh Bear deserves a new drawing of himself every once in a while. I wanted to draw Pooh in a sitting pose because I think it's important to draw figures in all different types of poses. This helps bring a challenge to those that are pretty good at creating cartoon characters like Pooh Bear. There is one thing you have to remember though, drawing animated animals in different types of poses is not quite the same as drawing human figures in poses. This is because animals, cartoon figures and so forth, have shorter limbs, and thicker body parts. Anyways, this is going to be fun because I will teach you once again "how to draw Pooh Bear" in a cute sitting pose. You can go ahead and add some flowers, jars of honey, or what have you along side of this cuddly bear. No matter what you choose to do with your drawing, I'm sure you will do a great job. Be sure to come back and join me for more drawing fun as soon as you can. ....
Step 1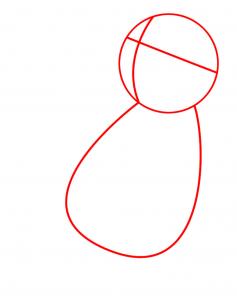 begin with a circle for the head, and then add the facial guidelines. You will then finish this step by drawing a tear drop shaped body.
Step 2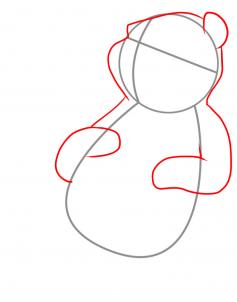 Now begin sketching out the shape of Pooh's blocky looking head which should also include the ear and brow shapes. When that is done be sure to incorporate the very same lining to make the arms and upper body too.
Step 3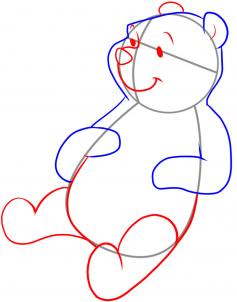 Now you will finish the shaping of his body, and then draw out the stuffed animal shaped or styled legs and feet. When this is done you can than also draw out the snout and nose tip, and then be sure to make a smile. As you know Winnie the Pooh is never frowning and if he does it's always a rare occasion. Color in two oval shaped dots for the eyes, and then make the eyebrows, and detail inside of his ears.
Step 4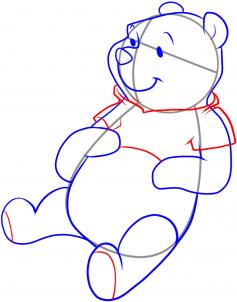 Well guys, you have finally reached the last drawing step. Now all you need to do is draw out his shirt which happens to look way to small for his body size, and then draw the detailed lining on his feet. Erase all the lines and shapes that you drew in step one to clean up the drawing.
Step 5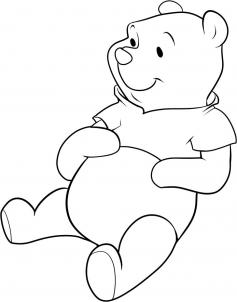 Here is what Pooh looks like all done up, and fully drawn. Now you can color him in and begin having fun by drawing a nice background. Great work everyone!

You will find incredible drawing tutorials for kids with step-by-step explanation how to create great drawings. All how to draw tutorials on HelloKids are provided by our partner, Dragoart.com. Pets, Pokémon, fantstic beast and dragons, be sure you will find something to draw on Hellokids!