How to Draw Baby Daisy Duck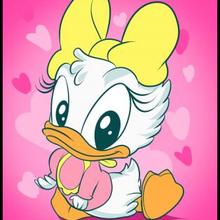 For my last installment of the baby Disney clan characters, I will be teaching you "how to draw baby Daisy Duck", step by step. Daisy's best friend happens to be Minnie Mouse and together they go shopping, hang out at each other's houses, and even talk about their beaus. This is one of my favorite baby versions of a Disney character from Mickey and friends. There is only one way to draw baby Daisy and that is the easy Dragoart way. Once I have submitted this tutorial, I will only return at eight o'clock for a live session that is long awaited. I haven't gone live in forever it seems, but I do know that when I stream with you all, the camera is going to be better quality, and there will be no more crashing. Also while I have you here I want to inform you that I have updated the news blog to the right. I talk about Christmas, my new web cam, and I even include a shot of my desk as it looks now. There is so to do so that Dragoart stays the world's best drawing tutorial site. Let's get back to this tutorial description before I chat off into something else that has absolutely nothing to do with baby Disney characters. Learning "how to draw baby Daisy Duck" is going to be super fun, and super easy. All you have to do is follow the steps, and color in the finished drawing. If there is another character out there that you would love to see in baby form just let me know and I will fill the request for you. Thanks for joining me with this lesson on drawing baby Daisy Duck. Enjoy the rest of your drawing day folks!....
Step 1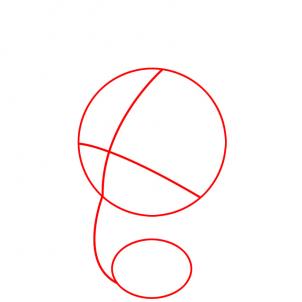 To start, draw a large circle for the baby's head, and then add the guidelines for the face, and body. At the end of the body shape draw another shape for the butt part of her body.
Step 2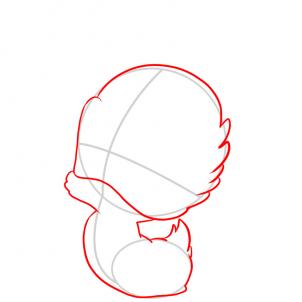 Sketch out the shape of her body and head like you see here, and notice how the sides of her face are feathery. The back is arched because she is in a cute sitting pose.
Step 3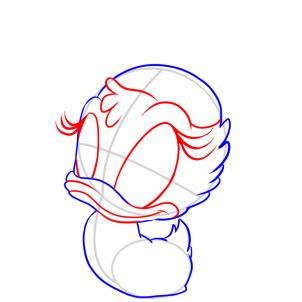 Draw out her head feathers like so, and then draw out her brows that define her eye shapes. Once the eyes are drawn out sketch in three lashes on each eye. Then you will draw out the rest of her beak or bill, and then be sure to give her a friendly smile.
Step 4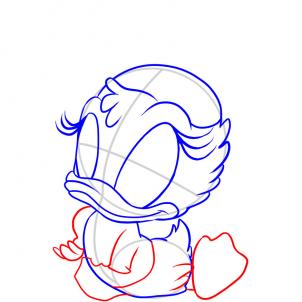 You are already almost done with this tutorial on baby Daisy Duck. All you need to do nos is draw out the arms, hands, and then her legs and flat feet. Add some feathering to the thighs like so and move to step five.
Step 5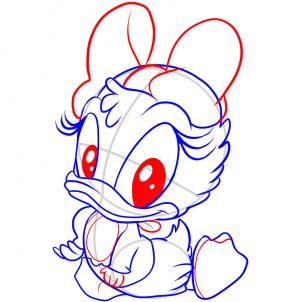 Now you will finish off this adorable version of Daisy. All you need to do now is draw out her big bow, color in her pupils, and then draw the hands, foot detailing lines, and then draw in her bib. Erase the lines and shapes that you drew in step one.
Step 6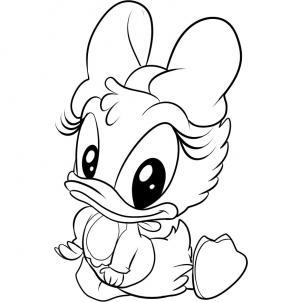 Here is what the drawing looks like now that you are all done drawing baby Daisy Duck. Color her in and that's it. Great work everyone.

You will find incredible drawing tutorials for kids with step-by-step explanation how to create great drawings. All how to draw tutorials on HelloKids are provided by our partner, Dragoart.com. Pets, Pokémon, fantstic beast and dragons, be sure you will find something to draw on Hellokids!