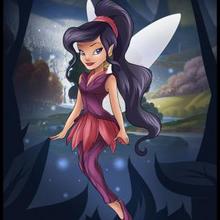 Okay, now everyone knows that fairies are known to be super beautiful, friendly and full of joy and companionship with other fairies right? Well, that is not the case for a popular Disney fairy known as Vidia. She on the other hand is grumpy, sometimes crude, rude, and prefers to be alone and incredibly unhelpful. Vidia is known to be alone all the time and she is one of those fairies that likes to do secret things when no one is looking. For instance, some of her favorite things to do is race dragonflies, and she loves flying the skies when no one is looking. Vidia is said to be the fastest fairy in Pixie Hollow, and that fact can be backed up any time, any place, and any day of the week. Her style is a bit dark, but then again so is her personality. She likes to wear a plum colored outfit that is fixed with feathers. Her hair is long and is black with hues of dark purple which is, I think very pretty. In the third Tinkerbell movie Vidia starts to learn what it feels like to be guilty for putting someone in harm's way for no reason at all. She also makes friends with Tink, Silvermist, Rosetta, and even Iridessa. If you like Tinkerbell and her friends you should have a blast with this tutorial on "how to draw Vida". Yeah sure she may be a little unwelcoming but every fairy is a little reserved in some way, shape, or form. Have fun guys and remember to rate, comment, and vote.....
Step 1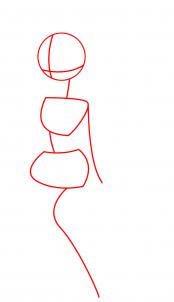 Begin this lesson on Vidia by drawing out the basic shapes and lines to form a workiable frame for your Disney fairy. Begin by making a circle for the head, and then add the guidelines for the face and neck. At the bottom of the neck line you will need to draw the shape of her torso and from there draw in a connecting line that will be used fused with the shape of her hips. Next and lastly, draw out the arm and leg lines.
Step 2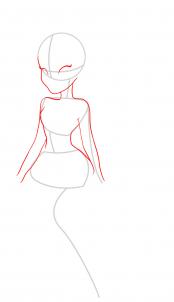 Begin sketching out the shape of her face using the circle you drew in step one. Once her face is sketched out all you need to do next is draw in her eye lines, and then sketch out the shape of her neck, shoulders, arms, and torso like you see here.
Step 3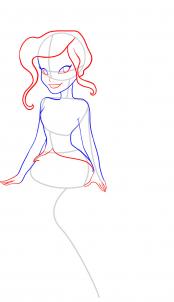 To fill in the hollow area on top of her head, and fill it in with her pretty hairstyle. The front should have a large long curl like you see here, and when some of her hair is drawn in this step you can finish sketching out her eyes, nose and mouth like so. Draw in her hands and finish off her waist.
Step 4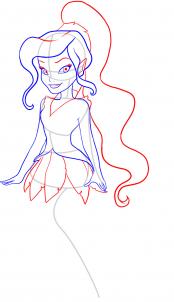 Here you will sketch out her long, wavy ponytail which is held by a thick hair band. Next add some detailing or definition to her hair, and then draw in her eyeballs, pupils, eyebrows, and then draw out her elven ear. Sketch in the V neck collar line for her top, and then begin sketching out the feathers that makes up the bottom of her shirt.
Step 5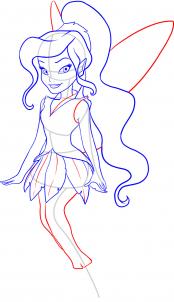 You are already almost done with this tutorial. Now what you have to do is draw out her wings, and then draw in her collar and sleeve like you see here. Add some definition to the feathers, and then draw out her legs like you see here.
Step 6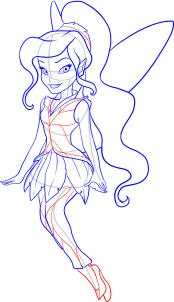 Look at what you have you here. This step will be all about detailing. You will need to draw in the pattern on her clothing but before you do this you need to erase the lines and shapes you drew in step one. Next draw in her feet, and then sketch in the detailing on her legs, and then draw in her shoe lines.
Step 7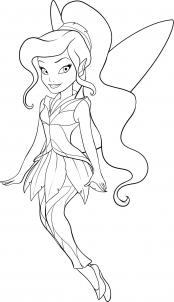 See how pretty she looks when you are all done. Now you can go ahead and color her in. I hope you liked this lesson on how to draw Vidia from Tnkerbell.

You will find incredible drawing tutorials for kids with step-by-step explanation how to create great drawings. All how to draw tutorials on HelloKids are provided by our partner, Dragoart.com. Pets, Pokémon, fantstic beast and dragons, be sure you will find something to draw on Hellokids!