How to Draw a Rabbit for Kids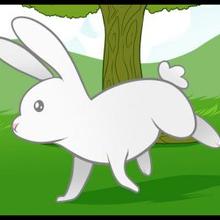 I think this will be the last day that I will be submitting the kids' stuff for a while because it's starting to make Dragoart look like a young child's site. To kick things off I will be showing you guys "how to draw a rabbit for kids", step by step. Rabbits are great animals to draw but like many other mammal species, they too can be complicated to replicate. This is going to be a fun tutorial for anybody to try out, and since Easter is only a couple of months away, you can probably use the lesson to draw yourself a nice, simple looking Easter bunny. I wanted to make these four kids tutorials really easy and somewhat primitive. That is why I think all the novice and young artists out there will enjoy learning "how to draw a rabbit for kids". I have to "hop" out of here because there is more tutorials coming your way. Have fun, and be sure to use your imagination when it comes to creating a background. Peace out people!....
Step 1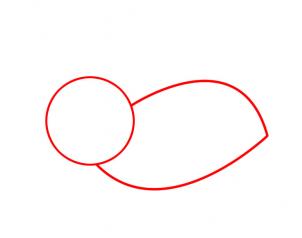 Begin with two shapes, one circle for the head, and then another leafy looking shape for the body like you see here. Make sure the two shapes are connected together.
Step 2
Begin drawing out the shape of the rabbit's head and snout shape like so, and then move to step three.
Step 3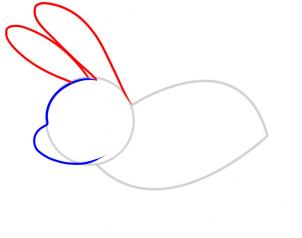 Now draw in the cute bunny ears and make sure they are long, straight, and pretty thick.
Step 4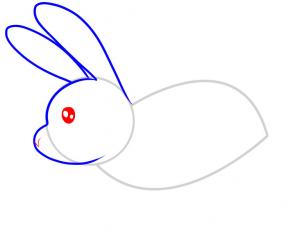 You will now need to draw in the eyeball which is round in shape. Next color it in, and then make a simple line for the nose tip.
Step 5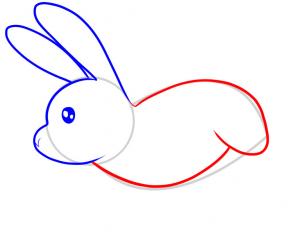 Draw out the shape of the rabbit's body, and then make sure to draw in the thigh for the rear leg like you see here. The rabbit is going to be in an action pose.
Step 6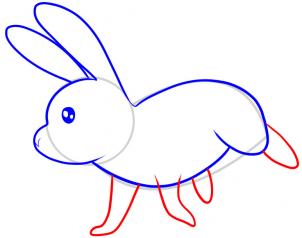 Draw out the front legs and feet, and then the back feet only. The back feet of the rabbit are longer, and a bot wider. This is because they use their hind legs and back paws to hope and run.
Step 7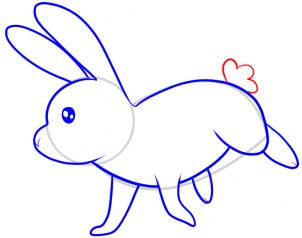 Lastly, draw out the puffy white cotton tail, and the erase the lines and shapes you drew in step one.
Step 8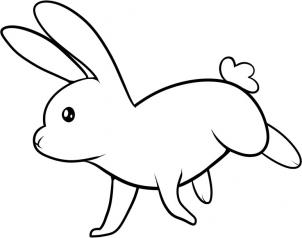 Clean up your guidelines and extra tweaking; and you'll have yourself a nice looking rabbit. I hope ya'll enjoyed this tutorial, so don't forget to leave behind some feedback. Stay tuned for more lessons!

You will find incredible drawing tutorials for kids with step-by-step explanation how to create great drawings. All how to draw tutorials on HelloKids are provided by our partner, Dragoart.com. Pets, Pokémon, fantstic beast and dragons, be sure you will find something to draw on Hellokids!