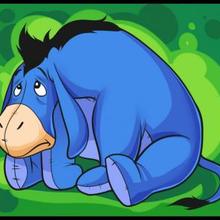 I have a special treat for all you fans of the animals that live in the Hundred Acre Wood. It is no surprise that even after over thirty years, Winnie the Pooh is still so very popular with kids, teens, and adults today. Besides Mickey and his friends, Pooh Bear has got to be one of the more recognized bear characters that has ever been created. There is only three favorite figures I have from Winnie the Pooh, and that is Pooh, Eeyore, and Tigger. Now Piglet is another major character in the group, not not as much as the three I listed thus far. Today I am going to provide another lesson that is going to show you "how to draw Eeyore", step by step. I have an older tutorial that I submitted some time back, but as you know I must eventually make duplicate figures because as my skills get better at drawing, the older tutorials start looking like junk to me. Here I have made a brand new lesson that is detailed, easy, and fun to color in when you're done. Eeyore is by far one of the cutest animals from Winnie the Pooh, and he is the most pitied as well. His laid back personality, and the way he carries himself along really makes you want to grab him and give a slap first, and then a hug. I had fun making this tutorial on "how to draw Eeyore", and hopefully maybe you will too. Got to run peeps, but I will be back. Adios amigos and happy drawing!....
Step 1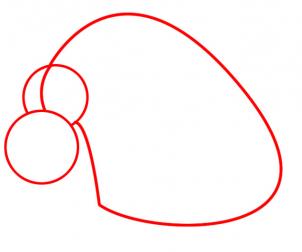 Are you ready to draw Eeyore once again? Good then let's get started. First make some shapes for his body which consists of his snout, head, and body. Of course the body is the largest shape. Add the one guideline for the face like so.
Step 2
Now you can start sketching out Eeyore's snout or nose, and then draw in the forehead. When that is done you can draw out his long, narrow, floppy ear.
Step 3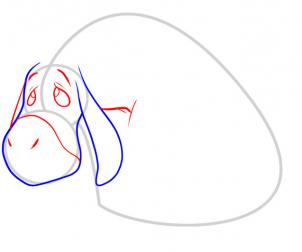 Draw the line for his nose and then draw in two dashes for the nostrils. Next, draw out his sad pouting eyes like so, and then draw in the eyebrows, eyeballs, and eyelids. Next, draw the neck and some of his chest.
Step 4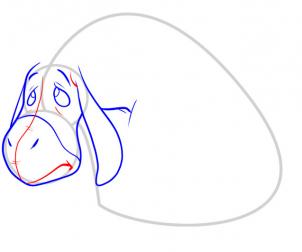 Now here, you will sketch the line that flows down the middle of Eeyore's face and nose, and then add the stitch marks on the seam. When that is done, draw out his sad looking mouth, and then add some detailing to the ear right at the corner where it attaches to his head.
Step 5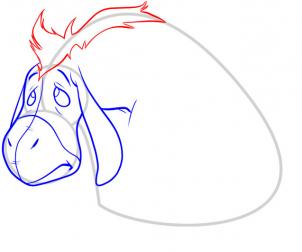 You are now half way done with this lesson. Now you will carefully sketch out Eeyore's messy mane which is thickest on the top, and then thins out as it flows down his neck like you see here. Look how awesomely adorable he looks even when he has a puss on his face.
Step 6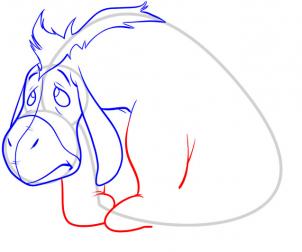 The further you get with this tutorial the easier the steps turn out to be. As you can see here, you will begin sketching out Eeyore's body starting with the rest of his neck, and then continue the lining until his front legs and feet are drawn out as well. Notice how his feet are facing each other, and don't forget to add the wrinkles at the bent part of the ankle.
Step 7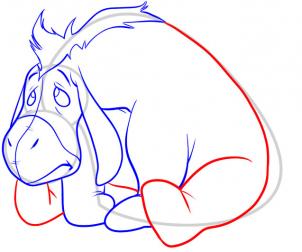 Now you will draw out Eeyore's back which is bent over or hunched over. When that is done continue drawing with the same line to get his back legs all drawn in. You can see that his stomach also needs to be added before approaching the next step.
Step 8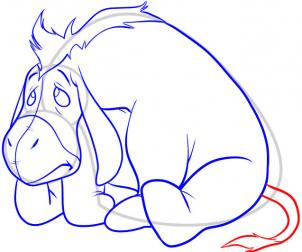 Okay, it looks like Eeyore's body is completely drawn out. You can start erasing the guidelines and shapes that you drew in step one to clean up the drawing. When you are finished, draw out his pined on tail, and then add some detailing to the end of the tail which is a small amount of fuzz.
Step 9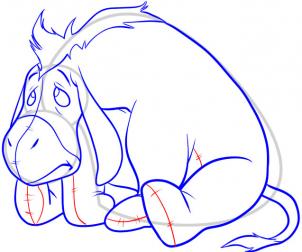 Now finally, you can finish drawing Eeyore by adding the sketched in stitch lines along his belly, front legs and feet, and back legs and feet. Be sure to take your time here because Eeyore is a very special character and you want to make sure that he gets drawn right.
Step 10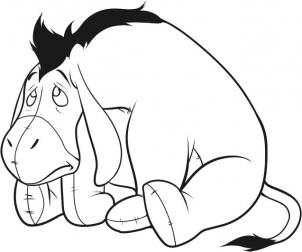 Here he is all done up and beautiful. Now all you have to do is add some color to brighten up his day just a tad. I hope you enjoyed this brand new lesson on how to draw Eeyore.

You will find incredible drawing tutorials for kids with step-by-step explanation how to create great drawings. All how to draw tutorials on HelloKids are provided by our partner, Dragoart.com. Pets, Pokémon, fantstic beast and dragons, be sure you will find something to draw on Hellokids!